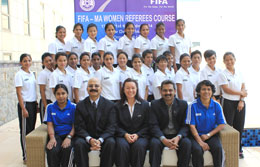 New Delhi: All India Football Federation's first-ever exclusive Referees Course for Women – the FIFA-MA Women Referees Course was inaugurated by Dr. Shaji Prabhakaran, FIFA Development Officer for South and Central Asia, at a City Hotel in New Delhi on Monday (November 17).


The Course which is being organised by All India Football Federation under the auspices of FIFA is being attended by 25 Women Referees from all across the Country. Ms. Krystyna Szokolai from Australia is the Course Instructor and she is being assisted by Ms. Chaitali Paul and Ms. Anamika Sen.


Inaugurating the five-day Course, Dr. Prabhakaran urged the participants to "interact as much as possible," with all.


"You are privileged to have Krystyna as your Instructor. Her experience will enrich and motivate you further towards fulfilling your dream" he added.


"You are the flag bearers of Women's Referring in India. You are already role models for many and you need to motivate a thousand more girls to get in Refereeing," he further maintained. "I also need to thank Krystyna for taking time out to teach our Referees."


Krystyna complemented Dr. Prabhakaran by reiterating that to the participants that they need to "ask questions."


"Don't feel shy," she stressed. "The more you ask, the more you learn. Take back as much as you can from this Course," she prophesied.


"All of you have made sacrifices to come here. You have either left your studies, families, work or something else to attend this Course. But sacrifices are always worth. There's paucity of Women Referees all over Asia. Make no compromises," she pronounced. "I need to thank AIFF for giving me this opportunity to conduct this unique Course in India which is solely and exclusively for Women Referees. I hope to make this a yearly event."


Gautam Kar, Director, Referees, AIFF admitted that it is a "dream come true" for him.


"The last Senior Women's National Championship was supervised by all Women Referees. That was no mean achievement. But this is just the beginning. Pursue your dream and take every bit of Krystyna's knowledge," he said.


The Course which comprises of theory and practical sessions concludes on October 21.


The list of the participants stay as follows:


Maria Rebello, Usha, Saba Nisha, Juhi Saha, Nancy Gupta, Piyas Bai, Madhubala, Ruba Devi, Monika Jana, Nutan Dhanawade, Kusum Mandi, S Vasanthi, Kanika Barman, Lalita Saini, Shalini Yadav, Bishnupriya Das, Zohmingliani Fanai, Kunti Lakra, Madhu Kumari, Dudipta Das, Ranjita Devi, Reshme Chettri, Chim Chim Serto, Phurki Bhutia, Uvena Fernandes.