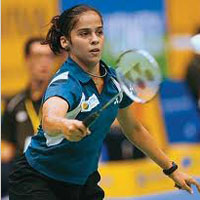 New Delhi: The Indian Badminton League is all set to hold its first and much anticipated Players Auctions on July 19, 2013 in New Delhi. The auction will be conducted by London-based auctioneer Bob Hayton who is well known for his association with Bid & Hammer Fine Art Auctioneers.
More than 150 players are expected to go under the hammer at the IBL Players Auction for 66 slots in six teams. Each Franchisee can feature 11 players, including a maximum of four foreign shuttlers and one under-19 player from their catchment area. There will be a total of six Icon players starting with a base price of $50,000 in the auction, for whom franchisee will bid from draw of lots. Indian stars Saina Nehwal, Jwala Gutta, Ashwini Ponnappa, Parupalli Kashyap and PV Sindhu will have Icon status in the auction while a leading foreign star will be the sixth Icon player.
Each Franchisee will be allotted a maximum spend of Rs 1.5 crore to bid for players in the auction, with the Icon player receiving 10 per cent more than the highest-bid player in the team. The top national players and their international counterparts from 17 badminton nations have confirmed their participation. The final date for entering the players' auction is July 5.
Reputed auctioneer Bob Hayton said, "I am looking forward to adding the Auctioneering 'sparkle & theatre' to the IBL Players Auction. It's a proud moment for me and I am delighted to be appointed by IBL and Sporty Solutionz as their International Auctioneer for this Event."
Commenting on the upcoming auctions, Ashish Chadha, CEO, Sporty Solutionz, the 'Commercial Partner' for IBL said, "With more than 150 national and international players waiting to go under the hammer the auctions will be a nail-biter for everyone. It will be interesting to watch each Franchise's strategy to bid and build an ideal team which will help them win the title."
Speaking on the occasion, Dr Akhilesh Das Gupta, Badminton Association of India President and MP said, "With the excellent talent possessed by each player we look forward to a vigorous and healthy competitive bidding event which will further add to the much-awaited League."
The $1-million Indian Badminton League is set to launch on August 14, 2013, with some high-voltage action expected between Hyderabad Hotshots and Karnataka Kings. The 2013 IBL will feature six franchises and will run for 18 days. Each franchise will host a two-day leg and the League will showcase a grand total of 90 matches, providing broadcasters and in-stadia spectators with more than 100 hours of LIVE "family entertainment" which will also be viewed by a significant international audience. The matches will be held during late afternoon and evening to coincide with prime time television and providing a convenient time for the stadium audience. The LIVE IN-stadia entertainment, combined with high-octane on-court action is expected to further hook viewers onto this new adrenalin packed LIVE family entertainment format attracting a much younger fan base, which also includes women and children.
The top four franchisee in the League will clash in the semifinals and the winners will meet in the grand final on August 31, which will be played out in Mumbai, for the richest prize money tournament in badminton till now.