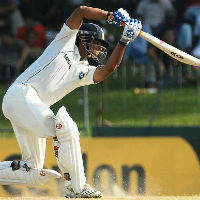 Mumbai: Suresh Raina has had a fabulous start of his Test career when he scored a century on Test debut — 120 against Sri Lanka in Colombo in July 2010. But thereafter he hasn't been in best of forms in longer format of the game.
Meanwhile, the riddle of who will fill the No. 6 spot left vacant after the retirement of Sourav Ganguly and VVS Laxman from Test side has been around for quite a sometime. And now Raina's wants to grab the opportunity with some solid performances at the domestic level. The southpaw wants to use the Irani Cup as a platform and he looks very optimistic about it.
He said, "The Irani Cup is a very important match for me. Mumbai have done well in Ranji Trophy, but the RoI team is also good. Personally, if I do well, I will get an opportunity to play Test cricket again. I am trying and working hard. If I score runs here, it will be good."
He said that batting with VVS Laxman was a learning curve for him where he learned how to bat with tail-enders. "I learned how to keep wickets in tact when team is under pressure and that has really helped me in ODI's and if given a chance I can do it in Test as well. Over the years, I have learnt to play with the tail-enders. When you bat at No 6, you know you will have to bat with Dhoni, Jadeja, and Ashwin, may be Shami and Ishant sometimes. Batting with tail-enders, you need to take your chances. Test cricket will help me bring stability in my batting as well as it will help me make my temperament better."
While Captain Virender Sehwag, Harbhajan Singh, Murali Vijay and Manoj Tiwary didn't made it to the nets, Raina had a good hit in the nets on Monday, middling the ball well and stepping down to the spinners. He is looking for a good outing against Mumbai this week will be the first step towards his goal of playing Test cricket.