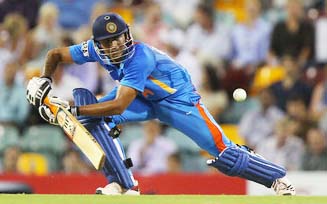 A lot of eyebrows were raised when N. Srinivasan led Chennai Super Kings shelled out more than 2 million dollars (Some say close to 6 million) for Ravindra Jadeja. Some said the franchisee bought him for at least twice the price he deserved while others chuckled when just a day later, the Gujarat-lad went for 41 from less than three overs and could not deliver with the bat either at Melbourne.

But the Chennai management isn't going to do something on mere instincts. Someone who would have followed them, and IPL closely over the last four years, would know that the most successful IPL team means business when they choose their players. They have made stars out of local cricketers, hardly known outside local circles, Ashwin being just one example.

Now let's look at what Jadeja has done over the last few years and to figure out whether he deserved the fact paycheck. He is Shane Warne's "rockstar" of the IPL debut edition. History is proof of the fact that Jadeja was one of the key members of the Rajasthan outfit which surprised everyone to win the coveted title in 2008. Jadeja and Yusuf Pathan became instant heroes and were inducted in the India limited overs side.

Jadeja did prove to be handy for a while because of his innate all-round talent and hunger to do well at the biggest stage. His ODI record till date looks handy with decent all-round averages in both bowling and batting and his prowess in fielding is something that never needed testimonials.

But like many who fall victim to being young and restless, Jadeja also went wayward. He went the wrong direction and came absolutely close to losing the plot. A very senior sports journalist often says "Give a 20-year-old a fast BMW and rest assured he will come late for practice tomorrow". Did you get the meaning? It simply means more often than not the BMW would either be used to crash into someone or to party so late that to reach for practice on time would become impossible.

Jadeja's pride began to reach his head. It can happen to the best, especially in India, where a young, decent looking, average performing cricketer could become the toast of the nation. He can be hailed as the best. Remember what happened to Vinod Kambli in 1992. He was hailed so much that he started believing he can't have chinks and it took just one bouncer by a wily Courtney Walsh in Mumbai to decipher him. That was his end. Kambli, who experts in the inner circles of Mumbai, hailed as a better talent than Sachin, has spent in entire life in oblivion after starting with a loud thud.


Why go a decade back. Has not something similar happened with Rohit Sharma. If media and a few experts were to be believed, he was our own Inzamam-ul_Haq. They called him everything close to greatness and he took them seriously. The result is that four years after Sharma was first hailed as India's next big thing in Australia, he is still just trying to cement his place in the side and is getting nowhere, ironically this time again Down Under.

Jadeja also had reached almost a point of no return. No matter how many chances he was given (and for someone with his performances he was given many) he just did not come out with something special. As it happens then, the axe located him. He touched the nadir when he tried to negotiate with another team while being with Rajasthan and was suspended for a year from playing in the IPL. He did not learn and was one of the seven players show-caused for a brawl in a West Indies club. Finally in 2011, he was dropped from the Indian team. He now clearly understood that unless he comes up with something special, it will be tough for him to stage a comeback in this highly competitive Indian cricket team.

He worked hard, performed in the domestic circuit and performed awesome and once again forced his comeback in the Indian side. A look at his last domestic fixture against Railways and you will find what he can do in Indian conditions, only justifying him being bought for two million. In a low scoring affair, Jadeja scored 73 in two innings (highest from his team) and picked up 10 wickets in the match giving away just 65 runs. Saurashtra eventually won by 97 runs. It must be noted here that he has a few believers in the side who trust his talent, otherwise he is not the only one doing well.

Since his comeback though, he looks in no mood to let go. First against England at home, then against West Indies, he has only delivered excellence. He also played the lead role in India's first win Down Under, after a horrendous Test series and a loss in the first T20, and was rightly declared the MOM.

So, what did Chennai actually went for? Chennai went for a man who has resurrected himself. Chennai did not go for the "rockstar" that Warne hailed in 2007, instead went behind someone who had shunned bitter critics who wrote him off. Chennai went behind a lad who they know would never ever take his job easy because he has seen the power of the axe and has risen from the phoenix of the ashes of failure to only script success. Sport though is a leveller and there would be days when he would underperform, not because he would not try, but because the opposition would be better, like that of the first ODI.

Let's look at another reason for Chennai to spend the buck. One eye on Chennai's record in the IPL will state a few obvious reasons. They have won the trophy twice and have been the runner-up once. They could possibly be called the best team till date. Now look at their bowling attack and you would find that for the first three seasons (till the re-auctions) they played with three spinners: Shadab Jakati, Ravichandran Ashwin and the wily Muttiah Muralidharan. They let go Murali in the fourth because they knew the champion was past his prime and Murali's performance for Kochi is testimonial to Chennai's brilliance in letting him go. Now figure out who was Kochi's best player in the last season. No prizes for guessing, it was Jadeja who scored 283 runs at a strike rate of 124.12, and took eight wickets at an economy rate of 7.26. What these numbers do not reflect is the impact Jadeja can have as a fielder. He is extremely quick across the turf and can easily save 20-odd runs on a day.

The Chennai management's trust in spinners is evident from the facts above. They know the conditions back home in India and play cards accordingly. Their combination only wanted a good spin bowling all-rounder, and who better than Jadeja. His left-arm spin has often left opposition bamboozled, his batting at number 7 could be a good propeller and add to this his fielding, which overall makes him an awesome package. Chennai bought this package.

Ask any top-notch investment professional and he would always say that money should never be top-of-mind while investing, top-of-mind should be the returns on it. A good asset might come disproportionately expensive but the ROI on it could be equally humoungous. Chennai it seems have done just that. They have paid the extra buck but with an eye on ROI. They might have just hit the jackpot considering Ashwin looks of form (which might change in India) and Jakati would be short of big-match practice. Always remember Chennai would enter IPL (V) as defending champions and they will have much more than just reputation to defend. A good team thus will be half the job done.  

By Rohit Sakunia