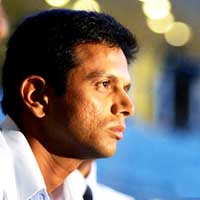 Bangalore: The cool headed Rahul Dravid mentioned Australian captain Steve Waugh to be his role model and further said that he used to imitate his mannerism to get into the right frame of mind.
Though Waugh didn't not have an array of strokes like some other batsmen including Sachin Tendulkar and Brian Lara, Dravid said that the Australian was a role model who suited his style of game.
Dravid said he used to imitate Waugh's mannerism so as to get into the frame of mind that the Australian was famous for so that it could be easy for him to be in the same state when he walked out in the middle to take guard.
Dravid also added that he did not regret retiring from international cricket
When asked which sport he loved other than cricket, Dravid said he liked hockey and played as a centre-half.
On V V S Laxman, Dravid said he was privileged to have had great partnerships with him not only in international, but domestic matches too.
When asked to choose top five batsmen in the world, Dravid said it was a very difficult job. However, Sunil Gavaskar and G R Vishvanath were his childhood heroes. There were also Vivian Richards, Sachin Tendulkar and others, whom he loved watching.
By Indian Sports News