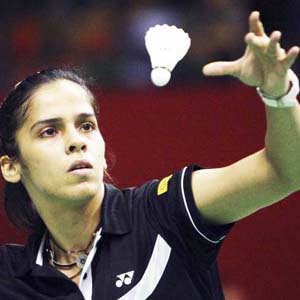 It took ace Indian shuttler Saina Nehwal almost a year to end her title drought when she defeated Shixian Wang of China to successfully defend her Swiss Open title.

Injuries and slump in form had been bothering her for a year and it also saw drop on the rankings list, but her victory in Switzerland has however helped her burying the past ghosts and she can look forward to the London Olympic with higher level of confidence.

When Saina represented India in Beijing 2008, not much was expected out of her, but she went against all the odds to go up to the quarterfinal which is an achievement in itself.  Over these four years, Saina rose through the ranks, made name for herself and has matured as a player.

In the nation dominated by sport like cricket, Saina has carved out a niche for herself. She also went up to number two on the World Rankings and poses threat to every shuttler she faces. She reached the world number two position in July, 2010 ahead of the girls from China, who have been dominating this game for so long and have always been in the top five till the injury took its toll on her as she dropped to number six in the world ranking in June, 2011.

The girl from Hyderabad who turned 22 recently, marked her arrival in the international badminton arena when in 2006 she became the first Indian to win a 4-star tournament; she achieved the feat after winning the Philippines Open after entering the tournament as low as 86th seed. 

From there she achieved the feat that no Indian women did. She won the Yonex Chinese Taipei Open 2008 beating Lydia Cheah Li Ya of Malaysia and was named the most promising player in 2008. In 2009 she won the BWF Super Series. This win made her the only Indian women to ever win the prestigious tournament.

Saina had a tough last year where she crashed out of the 2011 Korea Open Super Series Premier. She than had a very short 2011 All England Super Series Premier. The disappointment continued for her had at Indian Open Super Series and the Thailand Open GP Gold as well.

She also had an ankle injury but amidst all this Saina never lost her focus and ended her year-long title drought when she beat former World No 1 Shixian Wang of China 21-19, 21-16 to retain the Swiss Open Grand Prix Gold title on Sunday. The three setter match showed that Saina has left her injuries behind and gave the hope that she might just be peaking at the right moment.

Even her coach P Gopichand said that it was a very important victory for Saina as she had been playing well even last year but some close matches here and there, which could have gone either way, cost her a lot. Gopichand said that being an Olympic year and it would help her to prepare for the London Games.
The Olympics is the biggest stage of them all and all Indian hopes will be on this ace shuttler to give what the entire nation expects from her, knowing that she is very much capable of delivering that. India has always found it tough to win individual medals and Saina has everything in herself to improve India's record at the mega event.
By Gaurav Jha
Indian Sports News