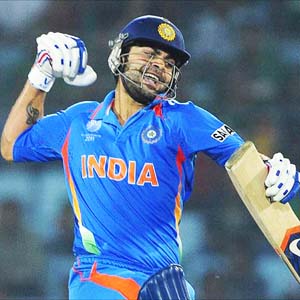 It took him 75 innings to reach 3000 runs, the fastest Indian and fourth overall.  Virat Kohli made his debut in 2008 and could never actually fit in as India boasted off a star-studded middle order. But he made most of his opportunities whenever he got a chance and gave initial glimpse of his excellence against Sri Lanka at the Eden Gardens in 2009. He scored his maiden century and along with his, partner in crime Gautam Gambhir chased down a staggering 316 to help India clinch the series 3-1.
But that was still not enough for him to solidify his spot in the team, but he held on and kept on rising through the ranks. And now he is one of the most crucial members of the team and the whole nation banks on him to rescue India out of dire straits.
Virat has established himself as the king of chase in recent times and has also tumbled down many records. He became the fastest Indian to reach 1000 runs and later also became the fastest Indian and fourth overall to breach the 3000 runs mark. He took 75 innings to reach 3000 ODI runs.
His batting average in ODI's is 50.56 and in second innings it is around 59. He has 11 centuries and 21 half centuries to his credit in 85 matches he played and to be precise in 48 innings batting second he averages 58.40 and has seven hundreds and 13 half centuries.
Virat's consistency has been aptly rewarded by BCCI as he has been named the vice-captain of the team for the ongoing Asia Cup in Bangladesh. Virat stands out like a rock in run chases in India and has helped his team win matches which were virtually almost stood lost.
Here are some of his second innings knock which Indian Sports News thinks stands out as his best. Opinion might differ and we are open to comments but this what according us stand as his best.
107 against Sri Lanka in 2009: He was not a first choice player till then. He got an opportunity to play in the fourth ODI of the 2009 Sri Lanka Tour of India. Men in Blue in pursuit of 315 were looking down the barrel after both the openers out in the pavilion. This was his opportunity and he cashed on it and marked his arrival with pounding authority. He played elegantly to score his maiden ton and also carved a 224 runs partnership to help India win the match and take an unassailable 3-1 lead in the tournament.
35 against Sri Lanka in 2011: He was playing the biggest match of his career so far. India chasing 275 in the World Cup finals lost Sachin Tendulkar and Virender Sehwag early on in the innings and in came Kohli. He did not score a century but his 83 run partnership with Gambhir ensured an easy flow of things and later building on the platform provided Dhoni ran riot to win the cup for India.
183 against Pakistan in 2012: A complete tandem by Kohli. India chasing a target of 330 against their arch nemesis Pakistan in a must win game lost the in form Gambhir for cheap. But then it was Sachin and Kohli who took the reins in their hand. But after Sachin departed it was looking like India would lose the match. But Kohli had other plans and ran havoc to score 183 of 148 balls which included 22 fours and a six.
133 against Sri Lanka 2012: Mother of all chases. India required chasing down 321 in 40 overs to win with a bonus point and stay alive in the CB series in Australia. India got off to a brisk start but could hold on to it as they lost their openers in quick succession. It was again left to Kohli and Gambhir and their 115-run partnership against Sri Lanka helped India enter the history books with the most prolific run chase of all time.
The target was chased down in 37 overs with Gambhir playing an instrumental hand with 63, but it was who Kohli stole the news with his unbeaten 133. His blitzkrieg in Bellerive Oval consisted 16 fours and two huge sixes.

By Indian Sports News