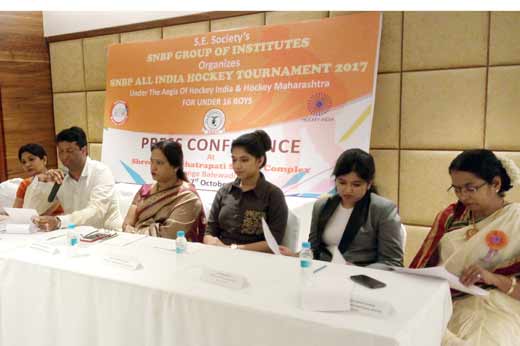 Pune: SE Society's SNBP Group of Institutes' endeavour to promote grassroots hockey once again unfolds in the form of the 2nd SNBP All-India Hockey Tournament 2016 (Boys' Under-16), at the Shree Shiv Chhatrapati Sports Complex, Mhalunge-Balewadi, from October 1 to 7, 2017.
SNBP's showcase event shall feature twenty-four teams from across the country lock horns in a league-cum-knockout format.
Teams will be divided into 8 pools of 3 teams each which will lead to the pool topper advancing to the quarterfinals.
Each team will play out two league matches each to decide the pool topper on the first four days of the tournament. The pool winners will then contest the knockout quarterfinals on October 5.
The semi-finals are scheduled for October 6 and the final and play-off matches on October 7.
For the record, the tournament is the only tournament to be conducted for Under-16s at an all India level in the State and city.
Dr. Vrishali Bhosale, Organizing Chairman & President SNBP Group, informed; "Our commitment is to promote the National sport with our contribution and above all create a platform for budding stars who yearn to showcase talent."
"The project when conceived in 2016 was an ideation of two important aspects - providing an opportunity on a National scale and an exchange of talent brought together."
This year teams have been drawn from 11 States which include New Delhi, Punjab, Uttar Pradesh, Haryana (North India). Andhra Pradesh, Tami Nadu, Kerala, Karnataka (South), West Bengal (East), Rajasthan, Madhya Pradesh apart from Maharashtra (West) will be in action.
Among the local teams host's SNBP will be represented by two teams – SNBP Academy; SNBP, Pune and Krida Prabhodhini.
Vibhakar Telore, Organising Secretary of the tournament informed. "We are proud to announce that the tournament this year has covered all four zones in India. Likewise, teams from four districts of Maharashtra which include Kolhapur, Sangli, Nagpur and Mumbai make up the State challenge and a tournament that is complete."
Firoz Shaikh, Tournament Convener explained, "The field is strong with a mix of Academy and school talent together. In all 34 matches, which include 480 players will be seen in action apart from 25 technical officials from Hockey India involved in the tournament. On behalf of SNBP we are thankful to both Hockey Maharashtra and Hockey India for the support extended ever since we came up with this idea last year."
The Championship is being conducted under the aegis of both Hockey India and Hockey Maharashtra.
This year a total of Rs 1 lakh will handed out as cash awards. The winner will go home richer by Rs 30,000, the runners up Rs 20,000 and the third place Rs 10,000.