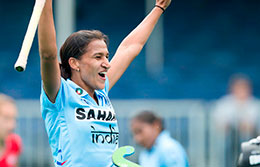 West Vancouver: Rani Rampal and Gurjit Kaur fired a brace each as India thumped Belarus 4-0 to set up a final against Chile in the women's Hockey World League (HWL) Round 2 here on Saturday.
Gurjit struck twice from the set-piece in the 13th and 58th minutes, while Rani Rampal's penalty stroke conversion in the 20th minute and a clinical field goal in the 40th minute gave India a convincing victory.
With the win. Sjoerd Marijne-coached India secured a berth to take part in the HWL Semi-Final to be held in June/ July. The HWL Semi-Final is a qualifier for the FIH World Cup 2018.
Belarus, who were thrashed by India during the bilateral series in the south Asian country in March, were the perfect opponent for India to gain a psychological advantage even before the start of the match.
India were dominant right from the start. Even though Belarus won two early penalty corners in the fourth and the ninth minutes, the Indian team's defence was impressive as they denied an early lead.
India were quick to earn their first penalty corner in the 13th minute and it was Gurjit Kaur whose stunning goal gave India a 1-0 lead. Skipper Rampal doubled India's tally when she successfully converted a penalty stroke in the 20th minute.
Both teams traded penalty corners in the third quarter. Belarusian Yuliya Mikheichyk's hard-struck drag flick was saved by India's goalkeeper Savita in the 40th minute.
Indian eves played fast-paced hockey as they rallied back to the striking circle with Rampal scoring a solo brilliant field goal that made it 3-0 in the 40th minute.
The final quarter saw Belarus make desperate attempts to come back into the game. They began the quarter with a penalty awarded to them in the 49th minute but was promptly denied by Savita. The Indian defence was inch-perfect giving Belarus fewer opportunities to enter their striking circle.
Gurjit's splendid penalty stroke goal in the 58th minute sealed the match for the Indians.
"We are very excited and happy about the win. We played as a strong unit with better defence and I am happy we did not miss penalty corner chances. Our aim was to enter the Final and we look forward to a good game against Chile," stated skipper Rani.
In the other semi-final, Chile beat Uruguay 2-1.