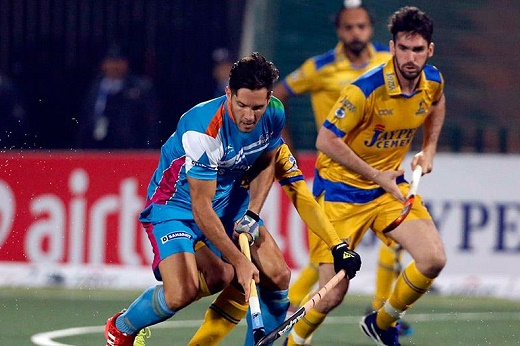 Chandigarh: Uttar Pradesh Wizards (UPW) produced an excellent performance to beat Punjab Warriors 6-2 in a Hockey India League (HIL) contest here on Monday evening.
Shamsher Singh (5th minute), Ajay Yadav (39th) and Akashdeep Singh (58th) scored for UPW while Dutch star Mirco Pruyser (31st) found the net for Punjab.
Each field goal counts as two in the HIL.
UPW were clearly the better team, holding the ball well and playing with short passes to produce some excellent moves.
Their defence was also superb preventing the Punjab forwards from creating too much trouble with some nice marking.
They took the early lead when Shamsher received a pass from the right before scoring with an accurate reverse hit.
The early goal saw UPW take the upper hand and forced Punjab to become a bit defensive.
Read more: Child's late goal helps Delhi see off spirited Kalinga 6-4
UPW earned another penalty corner seconds before the end of the opening quarter when an attempted pass from Ramandeep hit the foot of Punjab defender Jasjit Kullar.
With around a minute to go for the half-time whistle, UPW's Akashdeep Singh found himself in possession inside the Punjab penalty circle after an excellent build-up.
But But a momentary delay in controlling the ball proved to be his undoing as it enable three Punjab defenders to take position and block his attempt.
Punjab equalised against the run of play when Mirco Pruyser slotted home at the far post following a pass into the UP penalty area from the right.
The visitors regained the lead in the third quarter when some poor defending saw UP's Ajay Yadav unmarked inside the Punjab circle.
UPW created a few chances in a frenetic final quarter but the Punjab defence did well to thwart them.
But with just two minutes from the close, Akashdeep increased UPW's lead with a fine strike from outside the circle.