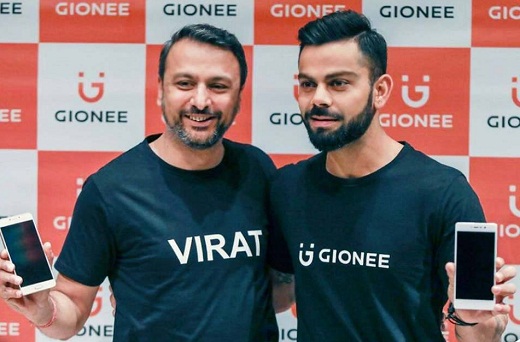 After winning million of hearts with his batting skills, Virat Kohli is ready to endorse Gionee smartphone. India's new captain and heartthrob of billion girls has signed a deal with Gionee as brand ambassador. He has elegance, style, speed, intelligence, strength and ability to perform under pressure which itself is also a reflection of good smart phone. Gionee has picked one of the greatest heroes of today and definitely will be benefitted by this move.
According to report of Profit.ndt.com, the company, which already has actor Alia Bhatt as a brand ambassador, has clocked sales of 1.2 crore units in the last four years.
"Virat is joining Alia in helping the brand touch new heights. He will soon be seen in the upcoming campaign of Gionee, and will also be actively involved in a host of innovative marketing and customer experience initiatives of the brand," Gionee India Country CEO and MD Arvind R Vohra said. He added that the company has clocked sales of 1.2 crore units in the last four years.
"We are looking at expanding our retail presence too. We will establish 500 brand stores by March 2018 in India from 100 now," he said, in the report.
According to report of The Economic times, Gionee, operating through its two manufacturing units in India, claims of clocking 1.20 crore customers in India. It has set an ambitious target of 2.5 times growth in 2017. For the same, it will be establishing 500 brand stores in India along with doubling their strength of retail representatives to 20,000.
Read more: 2002 Natwest final to 2011 World Cup tie: Top 7 moments in India vs England ODI series
The report says, according Arvind R Vohra, , "India is one of the fastest growing young economies in the world and Gionee takes immense pride in having India's biggest youth ..
According to a report in Hindustan Times, "Gionee comes across as a brand that is fuelled by passion, determination and focus to innovate and perform and with all of this have it's heart in the right place by giving back to society," said Virat Kohli.