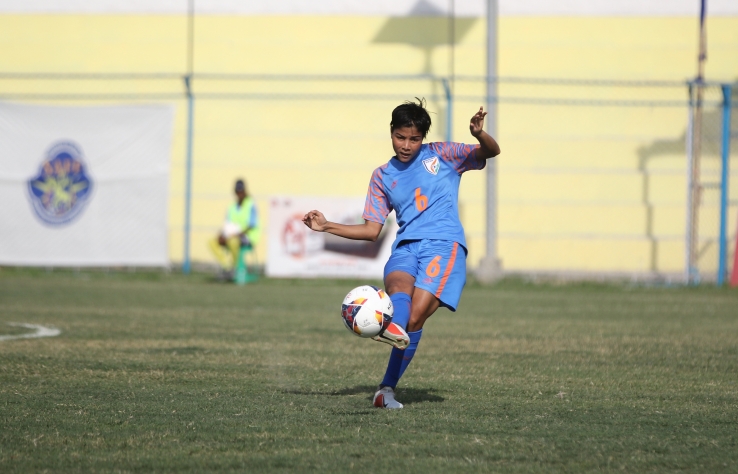 West Bengal is renowned for its passion towards the 'beautiful game,' and it is this very affection that inspired Indian Senior Women's National Team current midfield general Sangita Basfore.
"Everyone in my family just loves football," said Sangita in an exclusive chat with www.the-aiff.com. "I started playing when I was 10. My maama (maternal uncle) Vijay Basfore has played for Mohun Bagan, and Mohammedan Sporting. I was inspired seeing him on the field. He became my first coach, and shaped me as a player," Sangita, who played a crucial part in her team's recent SAFF Championship triumph in Nepal stated.
"I enjoy being the backbone of the team," she stated. "In the midfield, my job is to link the defence and attack. I relish playing through-balls to my teammates while going forward and love it when I give an assist - even more than scoring myself!"
Coach Maymol feels that she has all the attributes to be a top-class defensive midfielder. "Her anticipation and aggression are excellent, and what stands out is her work rate as she always covers the maximum distance in almost every game. She fully understands her role on the pitch and is still very young, which makes her a great future prospect," she opined.
The 21-year old who was born in Kalyani also talked about the immense support she got from people around her. "At school, my teachers would specially arrange extra classes for me on weekends. They made sure that I always got to balance my education with football," she informed.
"My parents are my biggest fans. They have been extremely supportive. They follow all my games, and are aware about the players in the Indian team," she stated.
Sangita began her footballing journey with Taltala Dipti Sangha and their women's football team in the Kolkata League. After that, she represented West Bengal at the National level, and was subsequently called up to the India U-19 side. Three years later, she was named in the senior team for their 2016 Olympic Qualifying campaign, under coach Sajid Dar at the age of just 19.
Under Maymol Rocky, she was entrusted more responsibility into a more central role. "I was the assistant coach when Sangita first got a call-up. But she was always on the bench. But she impressed with her aggression, and ability to learn quickly. She is a real fighter on the pitch and has grown tremendously," Maymol explained.
Since then, Sangita has even gone to captain India, getting the honor of wearing the armband in India's match against Uzbekistan in the Turkish Women's Cup.