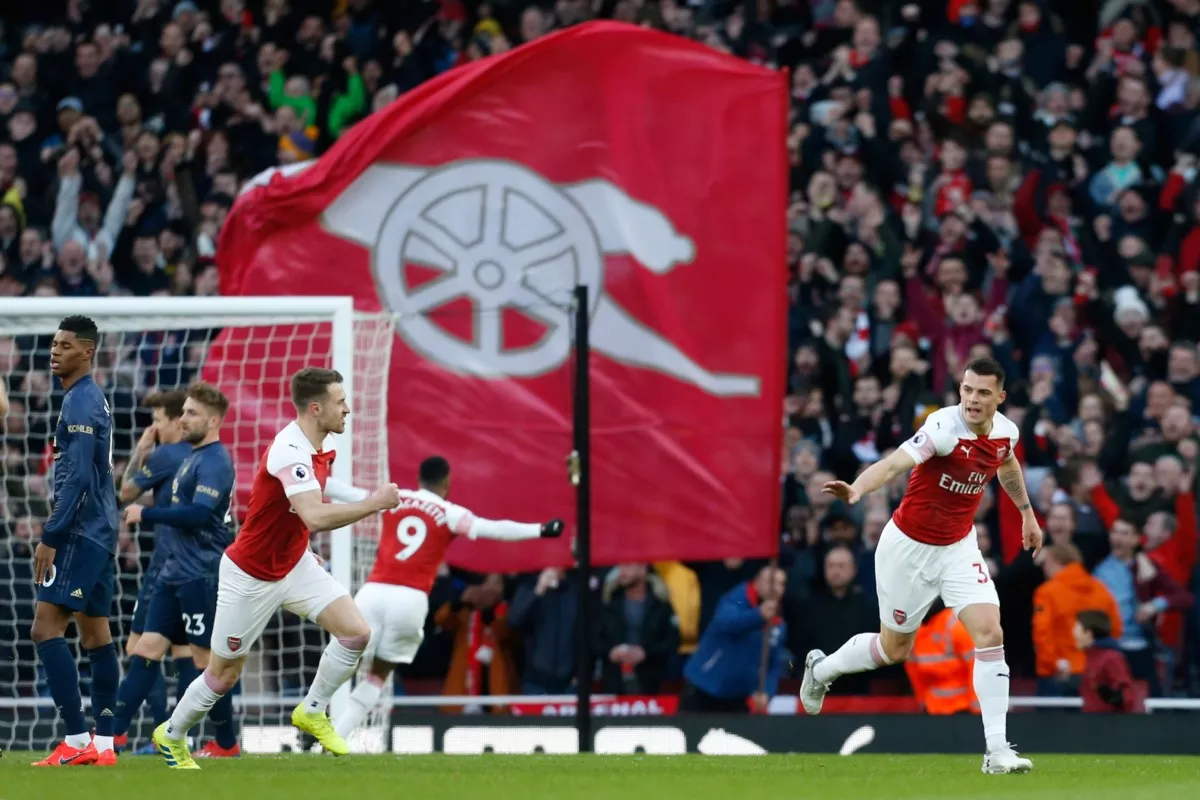 The race to the top 4 gets heated up almost every week when sharks of Premier League are pitched against one another. This weekend was Solskjaer's test as United visited North London to lock horns against Emery's Gunners. After an entertaining spell of 90 minutes that delivered almost everything one could expect from a game of football, the world witnessed a rare sight of Ole Solskjaer scratching his head in disappointment as the North London outfit successfully neutralized the Red Devils and their constant efforts to come out on top in a well fought 2-0 home victory.
It was even more surprising was that this was Arsenal's only 6th clean sheet of their Premier League campaign and although it would have boosted their confidence, questions will be asked on United's part who created plenty of chances but nothing to show on the scoreline. It was quite interesting to see history repeat itself, as last year too, Arsenal was the club that ended United's 25 games unbeaten run under Mourinho.
The game started on a high, much to the delight of fans, with the hosts in good control of possession. Emery chose to go with a back three of Sokratis, Koscielny and Monreal (preferred over Mustafi), as Kolasinac and Maitland Niles played in wing back positions. The tactics seemed to be working just right for the home side and it didn't take them much long to take the lead, when in the 14th minute, Xhaka was given both space and time in the midfield and for someone who is always looking to pull the trigger from long range, a shot like that was not least expected. His preferred left-footed attempt was misjudged by De Gea as he moved a little too early, with the flight on the ball deceiving him completely. The stadium erupted as Xhaka signaled a heart to them all, funny enough, last season too it was Xhaka who scored from some 30 yards in the fixture where Arsenal ended United's streak under Mourinho in May 2017.
Although Arsenal was dominating the game, United looked dangerous particularly on their quick counters, and prior to Arsenal's goal had a great chance when Luke Shaw delivered a good cross in the box, where Lukaku marked by Monreal hit the crossbar, Pogba was on the follow-up but couldn't quite meet it properly. United still had chances with Ashley Young delivering a few crosses inside the box, hopeful that someone will successfully end up burying them at the back of the net. Minutes later United hit the frame again amidst a period of Arsenal domination when Pogba played the ball square as Fred jumped onto it, with some nice curl the ball moved enough only to hit the frame, this was the 2nd time United came tantalizingly close to scoring.
Chances kept coming for both the sides, in what was a thrilling contest. Lukaku was once again presented with an opportunity to equalize when Rashford played a ball forward in the 36th minute, given his form one would expect him to finish it off, but credits to Monreal and Leno for canceling out the number 9, the former stayed with him till the end as Leno committed the challenge and even though Lukaku got around him, Leno's full stretch while on the ground, proved much useful in helping the Gunners maintain their lead.
Lacazette and Aubameyang started the game together after quite some time and the partnership was becoming a thing of concern for United's defense personnel. Smalling continued his impressive form as he stopped Aubameyang on quite a few occasions from pacing forward and causing any serious damage, he was quite active in the set-piece situations too, hoping he'd be able to make a difference to the scoreline. It was in many ways a Granit Xhaka game, who proved decisive again towards final minutes of the first half when another well crafted United move failed to bear any fruit. Lukaku saw Dalot's run and made the pass who placed the ball for Rashford to finish, but Xhaka was fully committed to the challenge so much so, he almost ended up hurting himself badly.
United's in-game transition to back three seemed to be working just the way Solskjaer would have wanted after he signaled for the same from the touchline in the middle of the first half. Just as one would expect, United came out in the 2nd half with great intent and character and Arsenal were having a hard time in trying to keep the narrow one-goal advantage intact.
Lukaku did his job well as he was present in good positions, on most occasions, but his flexes and decision making was just bad on occasions, as he had another chance just five minutes into the second half, one extra touch and Lukaku lost his chance to score, yet again it was the German keeper who didn't shy away from coming forward and saved the day once again for Arsenal.
The home side's defense was caught off guard as Rashford slipped one in for Lukaku, who probably had a moment of brain fade and an extra touch didn't help their cause. The resulting corner again presented a threat as Fred jumped on the ball that was left by Pogba for the former, but Koscielny threw his body in the way to stop Fred's effort. It was an impressive battle that was being fought between Luke Shaw and Maitland Niles, both of which had similar jobs to do. The two engaged each other well, as Maitland Niles made a few crucial and neat advances to stop Shaw from supplying anything in the box.
It was a half that United bossed; free kicks won, fouls drawn, good balls in the final third. Every time United were on the attack the Emirates dreaded the site of it for they were so threatening and would have pulled one back almost anytime. But then turned the tables, when in the 67th minute, Fred was lured to have a niggle on the progressing Lacazette who knew exactly what he was doing. It was more like a manipulated penalty rather than one just given away, on closer inspection one might call it soft too, but that's what the sport is all about. It wasn't that the game hadn't delivered enough drama and thrill already, but it packed some serious punch that was yet to be served. Up stepped Arsenal's top scorer, Aubameyang as Emirates was caught in mixed emotions.
The Gabonese striker had missed a match-winning penalty back at the North London derby a week ago, that cost them 3 points there and this could have too. But as they say fortune favors the brave, it wasn't the neatest of the finishes but De Gea guessed it wrong and Arsenal knew that there was little that they could do now, to not end up on the winning side of this game. Minutes later Lacaazette had another chance to make it 3 and he should have done a better job, as the guilty party Lindelof misjudged the bounce on the ball and it landed nicely for Lacazette. Arsenal then seemed to take back control of the game though United never let them take it away, and although it was a game where statistics did favor United in many fronts they were left lamenting the close chances that maybe on another day would have ended at the back of the net.
This leaves the Premier League as stirred as it was, as Arsenal break into the top four, two points ahead of 5th placed United and three better of Chelsea who dropped points early that day against Wolves, with one game still remaining. Interestingly, Arsenal has played all their draws against the top 6 with this, whereas others still seem to have a couple of bouts left among themselves, which is, of course, very comforting for Arsenal fans. Arsenal next have all their focus on the 2nd leg tie against Rennes in Europa League, which they unexpectedly trail by 2 goals, with Sokratis and Lacazette both suspended from this game, all eyes are on Emery and team for they will have to make sure more options are available in their redemptory task of returning to the Champions League.