With just over a month into 2019, the world of football is as stirred and lively as it always is. The January transfer window has indulged everyone fairly well, and the big sharks are already on the hunt, with the likes of Christian Pulisic, Aaron Ramsey, Frenkie de Jong, and many others ready to enter fresh waters.
The league tables somewhere dictate stories of dominance, whereas in other places, the sheer excitement of what this second period of the season or as it is being referred to 'the better half' of the season holds.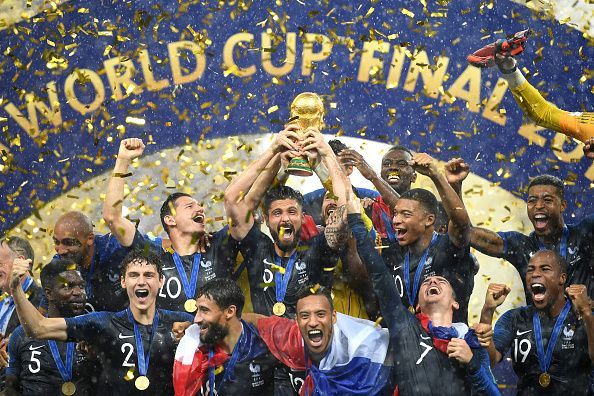 In all of this exciting and joyful pandemonium, we take a break and look at all that made this season so exciting and keenly anticipated. From the World Cup to the Champions League, from players leaving to managers getting sacked, we have got it all covered for you. So leaving the favoritism aside, let's look at what made the cut. Although it was such a happening year that many such lists could be produced without repeating even one of these events.
Liverpool hijack Virgil Van Dijk deal
What a start to the year it was, Van Dijk's Liverpool career is now just over a year old and there aren't any questions being raised by critics anymore as to why the Holland international is valued at a record 75 million euros.
He is a boss on the field, an absolute giant with great speed and agility. Klopp has always lauded him since his arrival, and much of that appreciation is well-deserved. He has helped Liverpool emerge as Premier League contenders and almost won the Champions League with them. He is what a no-nonsense defender is like, in every aspect. He is all compassion for his teammates and a nightmare for his opponents.
Roma pip Barcelona in an unbelievable comeback
1The Champions League was progressing towards its final stages and we had a clash that appeared to be a tough battle, at least on paper. However, the ruthlessness that is such an unmistakable characteristic of Barcelona, they settled the score in the 1st leg, handing a 4-1 defeat to Roma at Camp Nou.
Now, we all know how redemptive away goals could be, courtesy UEFA's system. But, no one could have predicted what Stadio Olimpico witnessed on this day. Roma was rampant and never gave Barcelona any breathing space, they proved that on their day, they just cannot be taken lightly.
Dzeko's 1st leg goal gave them a chance at it and in the 2nd leg, they redeemed themselves brilliantly. Kostas Manolas 82nd minute header saw Barcelona off to Spain with another shot at silverware misfired. Roma was about to make their appearance in final 4 of the tournament after 1984.
Real Madrid defend the European title yet
The road to Kiev was full of challenges for the two survivors but there was no looking back from here. Real Madrid was unable to claim any of the Spanish titles (LaLiga and Copa Del Rey) and Zidane was not ready to have a barren season.
On the other hand, Jurgen Klopp had been an integral part of Liverpool's ecstatic journey. He was with them when they locked horns with Sevilla in the Europa League final (2016) but things ended rather, unfortunately, now they had a similar but more daunting task to do in face of Real Madrid.
The match was a spectacle as expected, though there was an early disappointment when Salah had to be substituted thanks to Ramos' harsh and much-criticized challenge. But Liverpool was hurt by their own, Karius gifted Benzema a goal, and later when real saw themselves ahead at 2-1, courtesy super sub Bale's unbelievable overhead kick, Karius succumbed to pressure yet again, and made sure Liverpool had no chance of coming back, and eventually suffered a 3-1 loss.
Merci Arsène
Arsène Wenger was just another name, a rather questionable one. Upon his arrival in the north London 24 years ago, this determined man told the word what loyalty really is. It was not just a time period of one man show but an epoch so to say. Under Monsieur Wenger the club thrived and achieved enviable feats, truth be told he was among the first managers to understand the modern game and change the dynamics of the club accordingly.
His was an achievement-studded career, where he aided Arsenal to a Premier League and FA Cup double twice and under him Arsenal won the FA 7 times, taking their total tally to a record 13. Arsenal under him finished the season 2003-04 unbeaten in Premier League earning them the name - 'The Invincibles'. Wenger managed his last game at the Emirates on 6th May 2018.
Madrid jinxed by the managerial crisis
Real Madrid had won the UCL for the 3rd consecutive time now under Zinedine Zidane, one would hardly notice any sourness in this marriage, but it wasn't all that true. Just four days later, Zidane decided to resign from football's biggest job. Well, he was modest enough to say that a change at Madrid is now important but that is difficult to digest, considering the mighty team that was at his disposal.
Though some suggest the theory that the upcoming season was going to be a rebuilding season (in terms of the squad) for RMCF (and so it has been) and Zidane wouldn't really have appreciated that. The Madrid club then made the surprising appointment of Julen Lopetegui who was supposed to lead Spain in the World Cup but, the gamble failed badly. Real were miserable under Lopetegui and the club finally promoted RMCF's U-21 manager Santiago Solari and it is evident the Madrid club is taking their time to get accustomed to his style, struggling occasionally.
France crowned World Champions
It was an overwhelming World Cup that brought to us excitement, anticipation, smiles, tears and all that's part and parcel of it. The French looked like strong contenders and they managed to finish the tournament in style. The wounds of Euro Cup 2016 were still fresh and they couldn't have afforded to lose another final.
Deschamps' men stood in the final deservedly after beating the likes of Argentina, Belgium, and Uruguay. Croatia took the games deep at times (till penalties) but piped all the challenges on their way. Ante Čačić's men had already won everyone's respect entering the finals for the first time ever, they had grown more confident after victories against Argentina, England etc. but this was just not their time. The Croats left the field in tears as a delighted French team won the game 4-2.
Showers of goal expected as Ronaldo arrives in Italy
If you were wondering what more could go wrong at Madrid, well then a true Madristas worst nightmare just came true, the goal machine, Cristiano Ronaldo, was presented in front of Italian Media in a Juventus jersey. The Portuguese has had an illustrious career and is sure to wow the world irrespective of the leagues he features in.
In this season he has been a part of 21 goals for Juventus and it's very evident that Turin couldn't have been happier. Madrid is clearly wide open and it's not wrong to say that since Ronaldo's departure it has been an upsetting run for them.
Stoppers stop the Show
Call it a typical stereotype, but if you were to be asked what would the major ingredient of a Champion side be, the temptation to resist the likes of Messi, Ronaldo (of course stating the best in business) and other top strikers are difficult. That was the case until now, for only a little head had been paid to the ones guarding the goal.
But, this is the modern era and change is the only thing constant. Jurgen Klopp made Alisson his top priority this transfer season robbing him from AS Roma for a record sum of £66.9m. The tremors of the same were felt in West London where Sarri had just descended as Chelsea manager.
With Courtois' departure, the club could not have compromised on the personal. The Italian set his sights at the Athletic Club stopper Kepa Arrizabalaga, who was being pursued by Real Madrid, but the persistent London club made an irrefutable offer and bought the Spaniard's services for a world record (yes, poor Alisson) £71.6m. Who said goalkeepers can't loosen up your pockets.
Leicester City mourns the loss of Owner Vichai
The Foxes and their supporters were left to tears as they heard the news of their club owner die in a helicopter crash that took place just after their match against West Ham. The Helicopter carrying the Thai owner Vichai Srivaddhanaprabha and 4 others spiraled out of control and crashed killing each of them.
The Leicester City fans showed their love for Vichai as thousands of bouquets of flowers and tributes were left by Leicester fans outside the stadium. Under his Ownership, Leicester won the historic season of 2015-16.
And the winner of Ballon d'Or 2018 is…
The suspense was at its peak as the date of the big reveal neared. Though there were speculations surrounding Luka Modric and a few leaks that the ten-year running streak of Messi and Ronaldo will be broken by the Croatian mid-fielder but only a few would have believed so. Finally, it was Modric indeed who was awarded the French honor.
There were different views, of course, but the Croatian did have a special year on the pitch and nothing should be taken away from him. He won his 3rd consecutive UCL title with Real Madrid and then played a very crucial part in Croatia's World Cup run, winning the golden boot for himself. He overcame his own teammate; the 5-time winner Cristiano Ronaldo to achieve this feat.