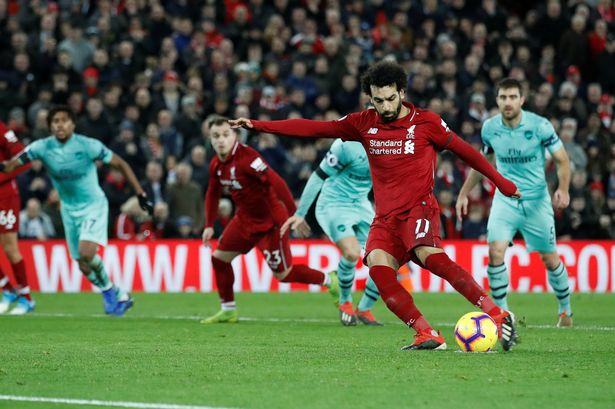 The year is all set for a wrap-up and this match week, all the teams stepped on the ground with a single aim- a victory for the respective fans to bid adieu the good year or in some cases a not so good year. This made the recent encounter between as Arsenal and Liverpool all the more important. Fans waited with bated breath as Liverpool hosted Arsenal in what was anticipated to be a fiery clash, but went on to be an assault at the visitors, one they hardly managed to put a fight against.
As referee Michael Oliver blew the full-time whistle, Jurgen Klopp greeted his players and the cams with his wide long smile he is so famous for. It wasn't all that merry an evening for the North Londoners, as prior to the big game, Spurs also succumbed to Wolves (Spurs 1 Wolves 3) in what was being called as a title-clinching run for them, as they sit 3rd in points table (Post Sunday's fixtures).
Anfield is among the noisiest of the stadiums to play at and the fans played their part with tremendous support. However, their excitement was short lived. Liverpool on that evening was facing a deficit after an approximate period of 13 months. Arsenal had scored with their surprise right winger for the day, Maitland Niles, who scored his first ever Arsenal goal, after Iwobi capitalized on a good one-two with Ramsey, raced past their defenses and played a beautiful ball for Maitland Niles, who was able to beat the Liverpool right-back Robertson in race towards the ball and netted home Arsenal's first and only goal of the match.
What followed from there on was Arsenal's demolition. Liverpool started their fiery counters and with luck on their side, they pulled one back in as soon as in three minutes, and it was 'Bobby' Firmino who scored his first of the night. Salah was on with the counter and tried to breach the Arsenal defense, but couldn't quite manage to. Instead, he lost the ball to Xhaka's challenge, Lichtsteiner arrived to clear it, but it was a poor effort as the ball hit Mustafi, bounced back right in the way of Firmino, who accepted the gift with both hands.
However, Firmino was breathing fire and he just didn't stop there, Lucas Torriera lost the ball to Sadio Mane, and found its way in Firmino's feet, who dodged both the Arsenal center backs, one challenging from the right other from the left to score an absolute dazzler past the Arsenal keeper. Anfield was roaring again and Liverpool had snatched the lead in almost 5 minutes from their rivals but, they were just starting.
The game from there on progressed rather impressively, with both the teams creating their share of chances, though the visitors were rare with possession in the early minutes. Iwobi to the left was doing a great job, making those crucial runs and trying to play his mates, while Ramsey tried to move inside the Liverpool box, desperate to put his team back in the game. Liverpool was now more comfortable and moved the ball through midfield quite easily, courtesy Shaqiri and Wijnaldum, the latter playing more of an anchoring role and shifting gears when required, while the former was creating as many chances and disrupting Arsenal's defensive attempts.
Fabinho on occasions was sloppy, giving the ball away cheaply to the likes of Iwobi and Ramsey, but otherwise did a good job in stopping the threats from progressing with teammate Wijnaldum. Liverpool continued to play long balls to their fullbacks, Arnold and Robertson, both of which were indulged appreciably by Kolasinac and Maitland Niles respectively. Mane and Firmino kept moving irregularly throughout the field, especially Firmino, keeping the Arsenal players guessing where the attack was coming from.
Liverpool again proved their quality after they extended their lead to two goals in the 33rd minute, a precise long ball by Robertson found an unmarked Mo Salah, who knocked an offload cross towards Mane, Arsenal stopper Leno was already out of track and Mane put the ball in an empty net. The frustration was quite evident on the faces of the visitors, all the chances they created through Maitland Niles or Iwobi or Ramsey just bore no fruit. 3-1 read the scoreline and Emery would have still put up with it, but there was more misery that was to be inflicted on the Spaniard's side.
Three minutes were added as stoppage time for the first half, Salah was marching forward, towards the Arsenal goal from the right, Sokratis was to deal with him, but his careless and rather nonsense defending left no doubts for the ref who pointed to the spot for a penalty. Salah stepped up to extend Liverpool's lead, and though Leno guessed it right, the power on the ball proved to be too much, as it took a deflection and hit the net, and pretty much all the hopes of a comeback were crushed with that goal.
From there on, the Reds saw it as a match not deserving of any extra effort anymore as they played the second half with ease, not worrying about who held more of the possession. There were attacks from both the parties, the leaders with many impressive ones. It almost seemed like they would score their fifth anytime, but were just one accurate pass away from that goal, be it Salah or Firmino. Shaqiri was delightful to watch as he created a great lot of chances for Salah and others, even tried to curl a few in the net for himself.
There were sights of what one would call a teasing play from Salah and Shaqiri at times who coupled on occasions fairly well. It was finally Firmino who had the opportunity to claim the match ball, as Lovren fell to the ground under a challenge by Kolasinac when the Reds had a corner in the 65th minute. It was very humble of Mo Salah to give up a penalty for Firmino, as the latter became only the third Brazilian to score a hattrick In Premier League. Arsenal could do all that they wanted to now, as Liverpool were no more interested in the game and defended the rare attacks from the Gunners quite comfortably. It was as if Arsenal would have been delighted to hear the final whistle anytime then.
This must have left Unai Emery pondering on how to keep Arsenal on track of a top-four finish, as their defensive woes continue, with many 1st team players injured. Questions would surely be raised on joint top scorer Aubameyang (13 goals) who managed only a total of 13 touches in the whole game. Though there was some positive take away too, like Alex Iwobi's form and his understanding of the game or his playmaking, also Maitland Niles as a right winger proved his worth.
Ready to depart for free, Ramsey was also pretty impressive as he always has been for Arsenal in all these years. His pressing was decisive and kept Fabinho under pressure on most occasions, forcing errors here and there. Arsenal 5th in the table go against Fulham in their first game of 2019, as Liverpool lock horns with their worthy rivals Manchester City.