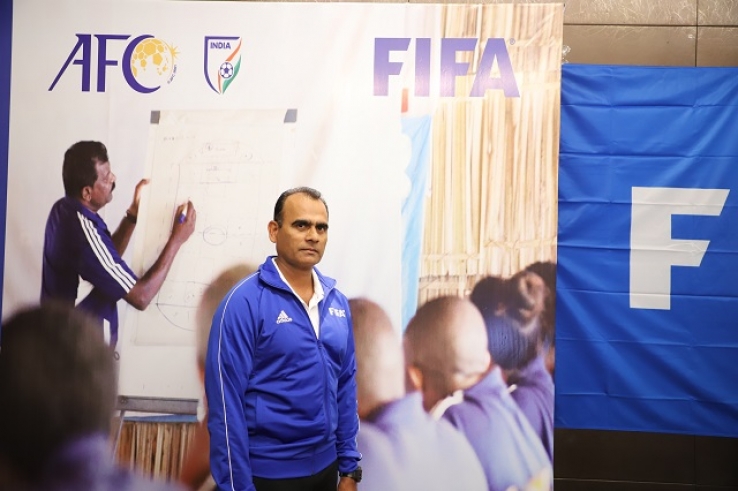 India is at an interesting stage when it comes to the football market, which is ever-growing in the country. While we see the glitz and glamour of the top divisions, overall development of football comes down to how the game is built from ground-up.
All India Football Federation (AIFF) Acting Technical Director Savio Madeira, who attended a FIFA Workshop for Technical Directors, took some time out of his busy schedule to speak to the-aiff.com about the kind of changes he is planning to bring in to Indian football. EXCERPTS:
How important is it to coordinate with State Associations in order to grow football?
Liaising with the state associations is very important as they are the ones dealing with the growth of football at the grassroots level on a day-to-day basis. India is a vast country with a large and diverse population. Due to this, we have a massive potential to grow the beautiful game in the country.
However, the main challenge is that there is a huge cultural difference between the various states. Hence, unlike other countries, we cannot really have a blanket operation to grow football in India. This is why the state associations become so important in developing football in our country.
We have already started closely working with the Indian Football Association (IFA, West Bengal) and the Goa Football Associations (GFA) to grow the football infrastructure in the respective areas. In the coming few months we are looking to closely work with more state associations to do the same.
The senior women's team recently created history in the AFC Olympic Qualifiers. How has that helped you in your bid to grow women's football?
There is a vast difference between men's and women's football in India, as is the case in many other countries as well. However, in recent years, we have seen a massive rise in interest in the women's game.
The senior women's team recently had a great result, when they made it to the second round of the Olympic Qualifiers. Due to this result, the government has agreed to invest in women's football in our country. This could go a long way in improving women's football in India.
How do you plan on bridging the gap between Men's and Women's football in India?
The first and foremost thing that we want to do is to build an academy for the girls. That is the need of the hour. Not only just academies, but we are also looking to introduce baby leagues and school leagues for young girls. That will give us a firm base to build upon.
The Indian Women's League and the Vedanta League in Goa have set a new precedent, and we want to build on that now.
Culturally, there is a big language barrier in India, when it comes to coach education. How do you plan on improving the current predicament of the coaches in India?
One of the things we direly need to improve in India is coaching education. One of the biggest challenges that our coaches face is that of language. Someone may be a good coach, but may not be fluent in English. We cannot just force them to do their licenses in English in such faces.
We are planning to have courses in vernacular languages in the respective states. These vernacular courses will be in the AIFF D and C level licenses. The idea behind this is that the coaches who do not know English learn the basics in their own language. After doing their D and C License courses, they can take a gap, of a year or two, learn English, and then get back to doing their B and A License courses.
Look at what Pep Guardiola did after his stint in FC Barcelona. He took a sabbatical for a year and spent that time to learn German, before moving to Bayern Munich. His first press conference at Bayern was in German. If we take Guardiola as an inspiration for coaches, we should also look at the time he spent on learning a language, in order to be a successful coach.