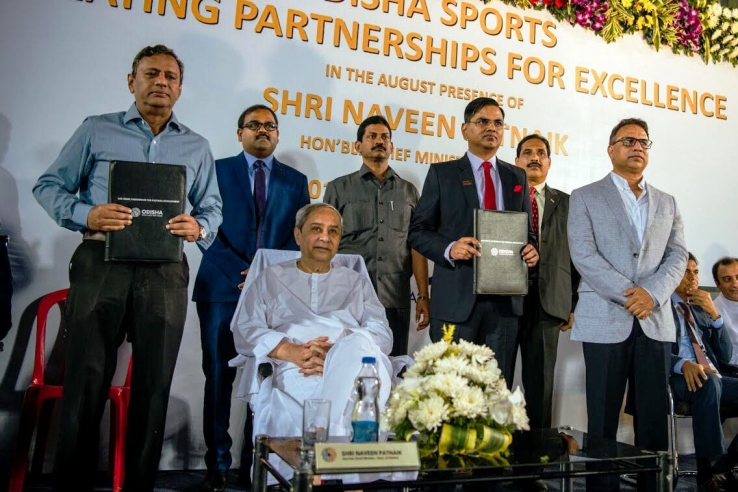 All India Football Federation (AIFF) on Monday (November 12, 2018) entered into a Memorandum of Understanding (MoU) with the State Government of Odisha. The MoU was signed in the presence of Odisha Chief Minister Mr. Naveen Patnaik at a packed Kalinga Stadium complex in Bhuwaneshwar.
As per the MoU, the Government of Odisha will act as the host of the AIFF National Team Camps as well as of the home of Indian Arrows. The training and connected infrastructure like gymnasiums, swimming pool, etc, will be housed at the Kalinga Stadium Complex.
In his statement, AIFF President Mr. Praful Patel said: "I need to thank the Odisha Government and Shri Naveen Patnaik-ji for wholeheartedly supporting Indian Football as part of their overall support for the development of sports. It is a very encouraging sign that more and more State Governments are coming up to support Indian Football."
AIFF General Secretary Mr. Kushal Das said: "We laud this unprecedented initiative taken by the Government of Odisha under the leadership of Shri Naveen Patnaik-ji. I am confident the MoU will help Indian Football, as well as benefit further development of the sport in Odisha."
"The meticulous manner of the Department of Sports & Youth Services (DSYS), Odisha in putting together the structure for the programme as per the requirements of the AIFF has been extremely impressive. I thank them for that," Mr. Das added.
The Indian U-15 National Team, as well as the Indian Arrows consisting of a bulk of Indian U-17 World Cup players, have been utilizing the infrastructure in Bhuwaneshwar in their quest to further enhance the development of the team.
Mr. Abhishek Yadav, Director National Teams further stated that "AIFF youth teams training together will provide an opportunity for regular interaction between the technical staff of different teams."
"Henceforth, further exchange of information on injury, rehab and mental strengthening of youth players will become easier. I am excited and look forward to utilizing the opportunities created by the support from Government of Odisha to take forward the development of the National Team."
The occasion coincided with the unveiling of the Odisha Hockey Men's World Cup 2018 Trophy. The World Cup hockey is slated to be held at the Kalinga Stadium from November 28-December 16.