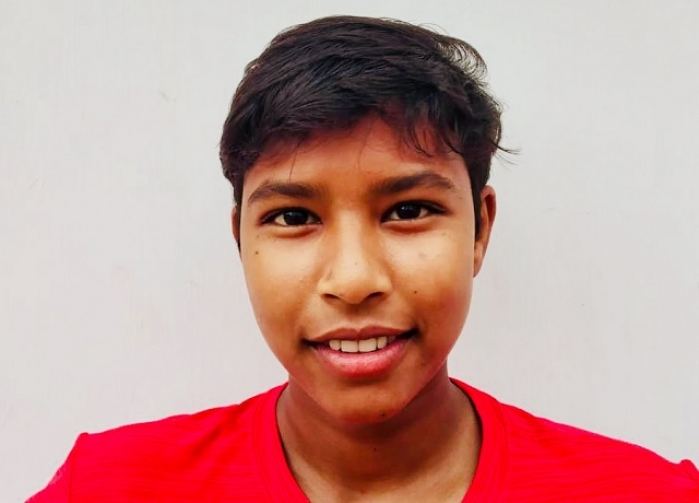 There are numerous stories about Indian football players coming up from humble backgrounds to make it big at the top stage. While these players have to struggle a lot in the earlier stages of their respective careers, things tend to be even more difficult for budding young women footballers.
India U-19 women's team forward Devneta Roy is one such girl, who has seen her difficult days early on. Now, however, she has become an integral part of coach Alex Ambrose's team, scoring three goals from four matches in the SAFF U18 Women's Championship, where India finished with a bronze medal.
Her performance in the SAFF U-18 Championship may have made her a vital part of the team but the young Devneta has already had a long way to travel, in order to get where she is currently.
Hailing from a small village in the Hooghly district, Devneta comes from a family of farmers. While her flair for the beautiful game was evident right from the moment she began to walk, her village could not often offer the proper stage for young girls to prosper on the playing field.
"My uncle had spotted my talent early on but there were no girls playing in our village. So I used to play with the boys on my school ground itself," Devneta said, speaking to the-aiff.com.
After playing in her village for a few years, Devneta finally made the move to the big city – Kolkata, where she signed for Bali Club before making the move to Taltala Sangha, where her talents were spotted last season.
While proximity to Kolkata helped Devneta find clubs, reality hit her hard when she found out that she would have to travel three hours every day, in order to get from her village to her club, in order to practice.
"We used to have practice three days a week, and those days would be the hardest," she said. "I would have to get up at 4.30 am, and leave for the city by 5 am, in order to make it to practice, which begun at 8 am."
It was at this time, when her coach, Sujata Kar helped her out, giving her a shelter in the city, something that helped the young girl have more time on her hands, especially during big tournaments.
Keeping the balance
Devneta may currently be training with the India U-19 women's team ahead of the AFC U-19 Women's Championship Qualifiers but she has yet another big life event coming up next year.
The teenager is also preparing for her Higher Secondary (or 12th standard) examinations, which are set to take place in March 2019.
"Right now, I can't really concentrate on my studies, as we are training hard for the AFC U-19 Qualifiers. Once that is over I can start concentrating on my studies," she said.
"If we do qualify, we might have more training camps next year. I will have to see when those are. I will see what I can do if they coincide with my exams."
Despite having her exams around the corner, the young striker has made up her mind about what she wants to do in the future.
"I want to play football. There's no doubt about that. I want to take my 12th standard exams, but at the end of the day, I want to keep playing. I'm not very good at studies anyway. It's football that I'm any good at," she says with a chuckle.
Heading into the crucial qualifiers in Thailand, Devneta believes that India stand a good chance of making it to the continental stage.
"Of course, we want to qualify. The group that we have got, we believe we can beat most of our opponents and get the points required to qualify. I know our coach is putting in his 100 percent to help us play better and we will give it everything on the pitch as well," said Devneta.
India begin their qualification campaign against arch-rivals Pakistan on October 24, before taking on Nepal on October 26 and hosts Thailand on October 28.