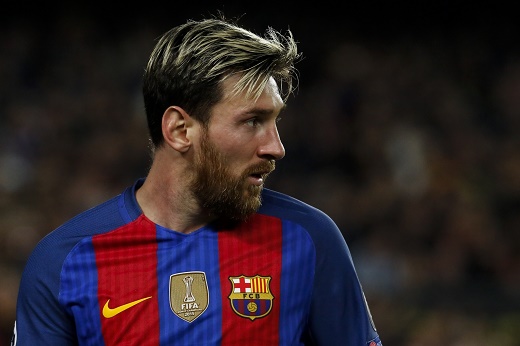 Barcelona: Two goals and an assist by Lionel Messi were what the doctor ordered to keep Barcelona alive for the La Liga football title in a 3-2 win over Real Sociedad, while Atletico Madrid strengthened their grip on the third spot with a routine 3-0 win at home against Osasuna.
The first half on Saturday between Barcelona and Real Sociedad at the Camp Nou stadium was crazy with all five goals coming in the first 45 minutes play and with the visitors playing good football and managing to stay in contention for at least a draw until the final whistle, reports Efe.
It was Messi who got the home team on the board first in the 17th minute with a mighty and spot-on blast from distance into the lower right corner of the net.
He followed it up 19 minutes later with a second strike when Luis Suarez fired a shot on goal that came right to Messi, who deftly kept the ball before him and pushed it past the Geronimo Rulli.
Inigo Martinez knocked the ball across the mouth of the net and off of Samuel Umtiti's arm and into the net for an own goal just three minutes before halftime.
Two minutes later, after Sergio Busquets set things up, Messi popped one through to Paco Alcacer, who beat Rulli for another home tally.
Just moments before the break, Xabi Prieto landed another tally for the 3-2 result on a great augmentation of a William Jose pass for Real Sociedad, thus getting all the scoring in before the break.
Although Barcelona had triumphed over Sevilla and Valencia recently, they had come up luckless against Deportivo La Coruna and Malaga. Now, with Real Madrid still three points out in front of the Catalan squad in the title race, and one game up, Luis Enrique's men are battling against the clock when it comes to cementing their third consecutive Spanish First Division title.
Real Madrid defeated Sporting Gijon 3-2 earlier on Saturday, transforming what seemed like a certain draw into a win on Isco's extra-time tally.
Next weekend, Barcelona will go up against Real Madrid in El Clasico in Madrid, with a Catalan win putting them tied with the capital squad on points. On the other hand, a win by the leaders would be all she wrote for Barcelona's title hopes this year.
In Madrid, Atletico rode on two goals from Yannick Carrasco and Felipe Luis against Osasuna who failed to muster a shot on target.
The anecdote of the game were two late penalty saves from Osasuna keeper Salvatore Sirigu, who denied Carrasco's hat-trick and then stopped a second penalty from Thomas Partey to prevent Atletico winning by a bigger margin.
The day kicked off with second half goals from Joselu and Pedro Mosquera giving Deportivo la Coruna a win to lift them well clear of the relegation zone and just about assure their place in the La Liga next season.