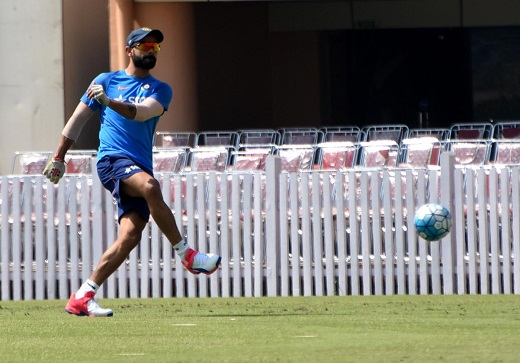 AIFF Media Team
NEW DELHI: The Indian National Team have gone from strength to strength in recent years. From a FIFA Ranking of 173 in 2015, the Blue Tigers jumped 77 places to a FIFA Ranking of 96 in July 2017, and that has left the Indian National Team Cricket Captain Virat Kohli very impressed.
In a recent interview to FIFA.com, Kohli, an avid Indian Football fan mentioned that the team has "improved drastically," and can even qualify for the FIFA World Cup "very soon,"
"We have improved drastically in our football over the last three-four years," Kohli stated in the interview. "With new talent coming in to make the difference, and our skipper Sunil Chhetri leading the team with amazing composure and inspiration, I see us qualifying very soon for the World Cup," he continued.
The Blue Tigers will embark on the road to qualify for the FIFA World Cup Qatar 2022 on September 5, 2019 when they face Oman in their first clash. They then travel to Doha for their second qualifier on September 10. India have been clubbed with Asian Champions Qatar, Oman, Afghanistan, and Bangladesh in Group E.
Kohli also spoke about his admiration for Chhetri, saying he would love to see the Indian National Team Football skipper playing at the FIFA World Cup. Chhetri is currently the highest Indian goal scorer in International Football with 71 goals, and the 2ndhighest among active International players (after Cristiano Ronaldo) at the moment.
"After all that he's (Chhetri) done for the nation, if anyone deserves it (to play at the FIFA World Cup), it's him. And the team should rally behind that motivation and qualify, and dedicate it to him. He's an absolute champion and an inspirational human being," Kohli certified.
Kohli, also a Padma Shri awardee, is a co-owner of reigning Hero Super Cup champions FC Goa, also commented that he wants "football to grow" to even greater heights in India.
"I see myself being involved more (in Indian football) and at a larger scale. Football has huge potential in India and I want to see it grow to a great level. That would be amazing," he exclaimed.