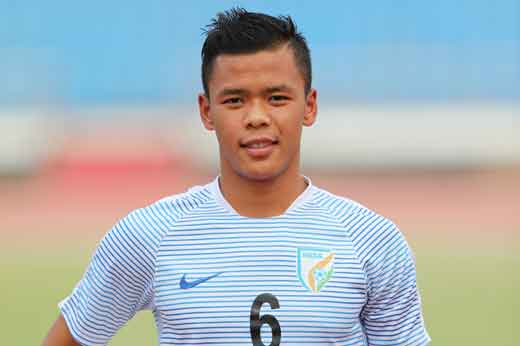 NEW DELHI: Suresh Singh speaks with a certain degree of confidence, both on and off the pitch. The quick footed midfielder has been a vital clog of the Indian U-17s midfield and with less than a week to go for the first ever FIFA World Cup to be hosted by India, Suresh can "only think about playing on October 06", when India face USA.
In a detailed chat with www.the-aiff.com, Suresh talks at length about his journey, the FIFA U-17 World Cup and a lot more. EXCERPTS:
How has the journey been?
It has been a fantastic journey right from when I started playing football to my last training session. Each and every moment of it has been special and I wouldn't change a thing of the process. I am here today because of my journey and I will be forever grateful to my father, a businessman, for letting me choose football when my mother wanted me to be an officer. Perhaps, this is also one way to serve your nation.
How helpful has the AIFF been in your journey?
The player I am today is because of AIFF. The Coaches I trained under in the AIFF Academies taught me a lot about football and helped me through every step. They taught me how deal with pressure and most importantly how to be a better person every day.
With less than a week to go for the FIFA U-17 World Cup, how excited are you?
All I can think about is the FIFA U-17 World Cup and the match against USA. I am very much focused on giving my cent percent on October 06.
How happy were your parents when you were selected in the final squad?
My parents were on top of the world when I got selected. It was a special moment for my family as well because finally I was there where I always wanted to be. My father was very proud of my achievements and so was my mother, it was a happy moment for all of us.