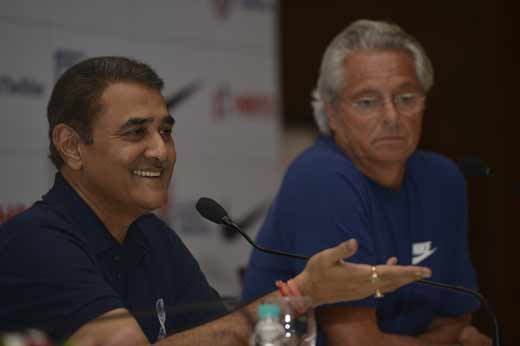 NEW DELHI: AIFF President, Praful Patel observed that the Overseas Scouting Programme which helped in unearthing talent from foreign shores is "a resounding success". The programme was launched keeping the U-17 World Cup in mind but Patel said that "we will be happy to continue with the programme."
On September 21 U-17 Head Coach Luis Norton de Matos announced his 21-man squad for the FIFA U-17 World Cup 2017, including two NRI players, defender Namit Deshpande and goalkeeper Sunny Dhaliwal.
"We are happy to continue Overseas Scouting Programme. If there is any available talent complying with all the Government regulations then we will be more than happy to encourage them as they are also as Indian as we all are", opined the AIFF President.
Asked about the future of the programme apart from the U-17 team he said, "We will in due course continue this programme in other age groups too. But we have to honour the laws of the land"
"People assume that any Person of Indian Origin (PIO) can play for India, but it is not the case. You need to be an Indian passport holder to be eligible. You also cannot be a dual citizen or passport holder. The laws are quite clear about citizenship and who can represent India", clearing any doubt on the eligibility criteria.
The programme in partnership with the Sports Authority of India (SAI) and the Overseas Scouting Portal (OSP) was launched to ensure Non-Resident Indians (NRI) also had a chance to play for the India U17 team. AIFF's scouting team, led by Abhishek Yadav, explored every avenue and left no stone unturned to unearth talent footballing talent to represent the nation.