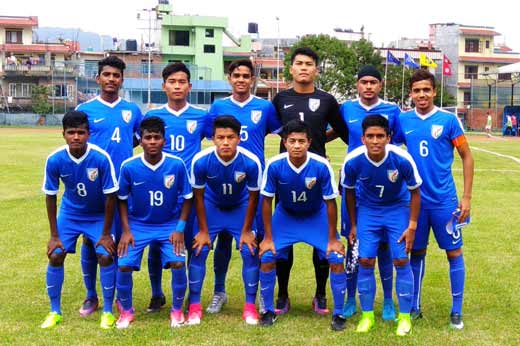 KATHMANDU: India U-16 team have recuperated from the 'disappointing draw against hosts Nepal' and the youngsters are ready for 'the bigger challenge ahead' now, coach Bibiano Fernandes sounded upbeat before India lock their horns with reigning AFC U-16 Champions Iraq in the final fixture of the AFC U-16 Championship 2018 Qualifiers at the Halchowk Stadium tomorrow (September 24, 2017).
"Yes, obviously boys were feeling a bit down following the draw against Nepal. We were really disappointed but now we have shifted our focus to tomorrow's match against Iraq", Bibiano Fernandes told https://www.the-aiff.com/
"There has been a positive vibe amongst the boys and they're determined to take the fight to Iraq tomorrow. Although we were left aghast last night, now, we are feeling the fire under our belly to impose a tough challenge to them."
Meanwhile, Iraq are now cushioned at the top position of Group D with 6 points from 2 matches whereas India are 2 points shy from as many games.
"We know the match is going to be extremely crucial, not only for us but also for them. We have to keep an eye on the other groups as the calculations will prove to be pivotal in our quest to qualify for the AFC U-16 Championship 2018", Bibiano mentioned.
There is no injury scare in the Indian camp right now and the team is fully ready for the final encounter of the AFC U-16 Qualifiers.
Bibiano further added, "The boys are in great shape and everyone is ready to give it a shot against the defending champions."
Meanwhile, the gaffer showed his concern over holding the concentration throughout the 90 minutes which might be the key aspect in tomorrow's clash against the mighty middle-eastern youngsters.
"We have to be at the top of our game for 90 minutes and it might be the key to get a positive result. We can't afford to lose our concentration any time, otherwise, we might have to leave Nepal empty-handed", Bibiano sounded cautious.