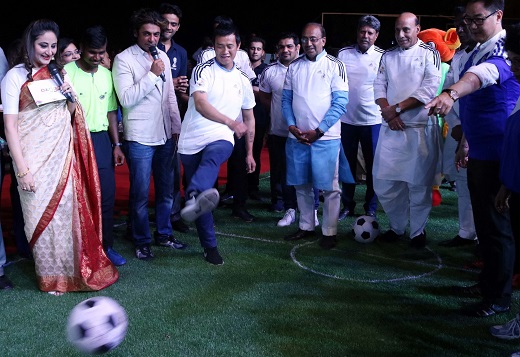 New Delhi: The 'Oorja' CAPF Under-19 men's and women's football tournament was launched by Union Home Minister Rajnath Singh here on Saturday.
The tournament, scheduled to begin on May 1 in every state and union territory, will involve around 12,500 players and 1200 matches.
The tournament, floated by the Cenral Armed Police Forces, under the aegis of All India Police Sports Control Board (AIPSCB), will have a prize money of Rs 20 lakh. The three-month tournament will be held in three phases and will end in the capital on July 25.
The logo and the mascot - a lion cub called 'Gabru', was also unveiled during the event, while Bollywood singer Sukhwinder Singh performed the tournament anthem in his unique voice.
Doing the official kick-off at the India Gate, Rajnath Singh said that football is one of the world's most popular games and India should do its utmost to improve its standard in the sport.
"For that budding players need to get a stage to showcase their talent. We need to channelise the energy of our youth is right way.
"Football is a very popular sport and it can be gauged from the fact that while United Nations has 193 members, FIFA has more members than that," he added.
Rajnath Singh also pointed out that sports should be promoted even in "disturbed areas" in order to bring peace in the areas affected by terrorism and Maoism.
Several sports personalities, including former football stars Bhaichung Bhutia and I.M. Vijayan were also present at the event.
Wrestling icon Sushil Kumar, cricket legend Kapil Dev, badminton coach P. Gopichand, boxing queen M.C. Mary Kom were also present.