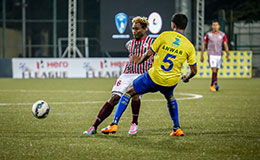 Kolkata: Mohun Bagan hope their Haitian star striker Sony Norde can shake off a niggling knee injury to feature against Aizawl FC in a crucial I-League football match here on Saturday.
Norde, Bagan's star player, did not train on Friday, raising questions about his availability for the match to be played at the Rabindra Sarovar Stadium.
Asked about the status of his injury, Norde said he wants to take the field against in-form Aizawl and will take a call only on match day.
"I have more than 24 hours to take decision. I feel some pain in my knee but I want to play. The coach asked me if I feel pain I better take rest because two important games are coming up (Asian Football Confederation Cup home match against Colombo FC and I-League derby against East Bengal)," Norde told reporters on Friday.
Norde was not in the squad for Bagan's AFC Cup away leg match against Colombo FC last Tuesday. Mohun Bagan won the match 2-1.
"He is struggling and there is a big question mark (on whether Norde will play or not)," Bagan coach Sanjoy Sen said.
"This is the first team in the season we have injuries in so many positions besides the goalkeeper," Sen added.
Defenders Raju Gaikwad and Eduardo Perreira, winger Kean Lewis and striker Balwant Singh have been ruled out of the match.
Midfielder Pronay Halder and defender Kingshuk Debnath are returning from injuries.
Second-placed Bagan and third Aizawl have 13 points each with the home side playing five games to Aizawl's six.
"It's going to be a very tough match," Bagan striker Darryl Duffy said.
"We watched watched their set pieces and they are a very dangerous side. Mahmoud Amnah is very good and Alfred (Jaryan) is experienced in the I-League," the Scottish marksman added.
But Aizawl may be without Syrian midfielder Mahmoud Amnah as he id down with a toe injury.
"We are ready for the match and we are not taking anything lightly. We will take a call on Amnah who has a toe injury. He may or may not start," Aizawl coach Khalid Jamil said.
"The team has settled down now and have improved. I give all the credit to the boys. They got less time and adopted very well," the former Mumbai FC coach said.
Aizawl, who in their last visit to Kolkata, held East Bengal to a 1-1 draw, have been impressive this season, losing only once in their first six matches.
Mohun Bagan are one of the two teams to remain undefeated in the tournament so far. Their fierce rivals, East Bengal heads the standings with 16 points from six matches.