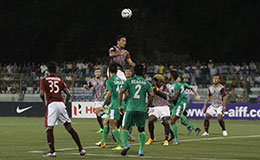 Kolkata: Mohun Bagan's first I-League home match will be shifted to a new venue less than 48 hours before kick-off, following a High Court ruling asking them not to host their matches under floodlights at the Rabindra Sarovar Stadium, their first choice venue.
Mohun Bagan are now expected to take on Churchill Brothers at the Barasat Stadium on Sunday.
"The matches have to take place under floodlights and at 7p.m. as that time has been given to the broadcasters and cannot be changed now," a source told IANS.
It was learnt that Bagan will again move court to vacate the stay order on Monday. The order was issued after environmental activist Subhash Dutta moved the National Green Tribunal (NGT) against hoisting of the match at night at the stadium.
Due to unavailability of the Salt Lake stadium for the U-17 World Cup, Mohun Bagan and East Bengal have been forced to play at a different venue. East Bengal are playing Aizawl FC at the same venue on Saturday.
Dutta also moved the NGT during Atletico de Kolkata's Indian Super League (ISL) home games saying it would be ecologically hazardous if matches are played at the Rabindra Sarovar which is an environmentally sensitive zone.
Dutta had stated that the Rabindra Sarobar Lake, part of the National Plan for conservation of Aquatic Eco-system (NPCA), was a "highly eco-sensitive zone with big stretches of water bodies and greenery all around".