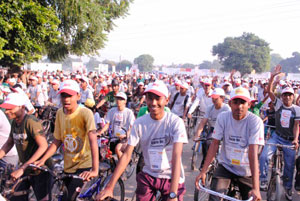 Lucknow: With their helmets in place and gloves fitted well, it's a refreshing sight, in the West, to see the students / businessmen / salaried class – all heading towards their workplaces, the green way!
Envisaging a better greener healthier state, Envisage Communique Pvt. Ltd. took the initiative of borrowing this one good culture of cycling from the west and promoting it in Uttar Pradesh – India (to start with).
With the noble thought of promoting the cycling culture in India, "ENVISAGE CYCLE'ON", was initiated in Lucknow – the capital of Uttar Pradesh – India. Envisage has been in the brand marketing industry for over a decade, and is always on the lookout for new opportunities to create an interface between the brands and customers.
From a-midst the clutter, Envisage initiated a fresh breather, an eco-friendly and green concept - A CYCLE MARATHON - Envisage Cycle'on, which was mass participation cycling event, for professionals, amateurs, casual bikers, students, kids, women.....for one and all! It intended to promote the cause of Cycling and the various benefits associated with Cycling, like environment consciousness, health, etc.
Envisage in its endeavour wished to create a culture of cycling, considering that cycling is popular / up market in other parts of the world ...but India out numbers in cycling out of sheer compulsion....eventually, the moment one switches from cycle to a motorcycle ...there is no looking back...."there lies the problem" ....
While we catch up with the speed / time.....we leave behind the greener pastures.....Team Envisage felt it was the right time to create a balance between the "CYCLE & MOTORCYCLE"....hence to create a culture of cycling...we need to act in the mind first that we need to possess a CYCLE FIRST.....and then cycle to health...and pace out our lives for a greener future.....
Through the Cycle'on, Envisage coaxed Lucknowites to PADEL FOR A CAUSE.....

The known/not so well known Health benefits of Cycling, that drove Envisage towards the cause are as follows:
Cycling is one of the best forms of exercise, that leads to a healthy body, by building strength and muscle tone…Contrary to normal perceptions, cycling is not a fitness activity that solely involves the legs. It builds strength in a holistic manner since every single part of the body is involved.
Cycling just 20 miles a week can reduce the risk of coronary heart disease by 50%.
Cycling can help burn as much as 400 calories, by riding at 25-30 kmph in 30 minutes.
Cycling is especially helpful for Arthritis patients as it involves lesser strain.
Cycling is an excellent aerobic exercise.
Cycling helps burn just the same amount of calories, as running. However, cycling offers more options for beginners, those with injuries or people who are significantly overweight.
Pedal for a Cause was the theme hovering around the activity, which indicates Cycling for health. HOPE INITIATIVE - a non-profit organization, has been plugged in, to propel the cause, as it is actively engaged in an endeavour to spread health awareness and to promote health amongst students.
The Hon'ble Chief Minister (Uttar Pradesh) –Akhilesh Yadav was generous enough to give his consent towards supporting the cause, by flagging off the Cycle'on. This came as great pride for Envisage, to have developed a concept that has been accepted and applauded in such a big way!
The initiative has been graciously supported by "Hercules Cycles" - the Title sponsor to the activity. Hercules Cycles has been a brand that has maintained close touch with its audience to remain young and rooted to fun, freedom and fitness. With the most popular range of cycles to its credit, Hercules truly provides "power at ones feet"!
Also, supporting the cause, is ACC, doing their bit, by cementing perceptions towards the motion of promoting cycling – thereby rightfully doing justice to the statement they make, viz, "sada atoot raho"!
The activity aimed at changing perceptions and attitudes towards cycling, overlooking an eco-friendly approach towards healthy living. Thereby, the format of the Cycle'on had been simplistically kept as a ride (and not a race). Calling for free participation/registrations, Envisage called for Lucknow to support the cause, by riding their cycles.
"Envisage Cycle'on", as proposed, will be a multi city activity, with prospects of rolling across U.P. - having completed the Lucknow Leg with stupendous success, the next city will be Noida followed by Kanpur, Agra, Meerut, Varanasi and Allahabad.
The organizers have been focusing on various touch points, like schools, colleges, architect associations, civil engineer associations, doctors associations, housewives, etc., to tap all critical sects of the society and drive them towards the cause.
Keeping the energy levels soaring high, the city witnessed 4000 enthusiasts at La Martiniere Boys Ground, supporting the cause on (Sunday) 30th September 2012, and passionately riding towards making the statement, "if it can happen in the west, so can it in the east....it's just about mindsets, let's change them for the better".
Looks like this was a small step, towards a big revolution!
Click here for photos - Hercules Cycle'On - Lucknow, Sep 30, 2012
(Please visit www.envisageworld.comfor more details on Envisage's decade long journey of expertise in brand marketing/promotion and events)