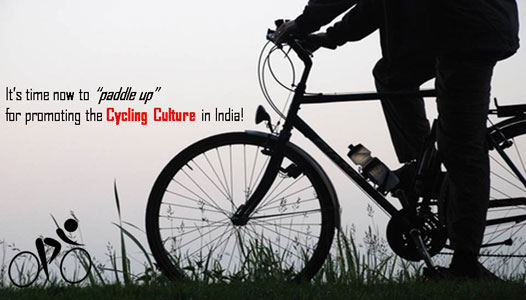 Hercules Cycles, since 1910, has been a brand that has maintained close touch with its audience to remain young and rooted to fun, freedom and fitness. With the most popular range of cycles to its credit, Hercules truly provides "power at ones feet"!

Envisaging a better greener healthier state, Hercules Cyle'on is an initiative of borrowing the culture of cycling from the west and promoting it in Uttar Pradesh – India (to start with). It is a mass participation Cycling event, for professionals, amateurs, casual bikers, students, kids, women.....for one and all! It intends to promote the cause of Cycling and the various benefits associated with Cycling, like environment consciousness, health, etc.
Pedal for a Cause is the theme hovering around the activity, which indicates Cycling for health. The activity aims at changing perceptions and attitudes towards cycling, overlooking an eco-friendly approach towards healthy living.
HOPE INITIATIVE, which is a non-profit organization, has been plugged in to propel the cause as it is actively engaged in an endeavour to spread health awareness and to promote health amongst students.
Also, supporting the cause, is ACC, doing their bit, by cementing perceptions towards the motion of promoting cycling – thereby rightfully doing justice to the statement they make, viz, "sada atoot raho"!
The Cycle'on, as proposed, will be a multi-city activity with prospects of rolling across U.P. starting from the capital - Lucknow and later covering Kanpur, Noida, Agra, Meerut, Varanasi and Allahabad. The subsequent dates of the latter cities are likely to be announced shortly.
Keeping the energy levels soaring high, the city is bound to witness hundreds of enthusiasts supporting the cause on (Sunday) 30th September 2012, and passionately riding towards making the statement, "if it can happen in the west, so can it in the east....it's just about mindsets, let's change them for the better".