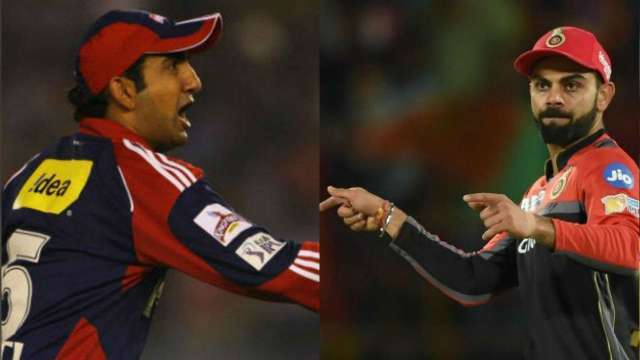 The Royal Challenges Bangalore come up against the Delhi Daredevils on Saturday evening at the M Chinnaswami Stadium in Bengaluru. It is a battle between the two of the teams that lie at the rock bottom in the IPL- while the Royal Challengers Bangalore are at the 7th place, the Delhi Daredevils are at the 8th position, the Challengers edging out on the points table becasue of a better run rate despite both teams having 2 points in 4 matches.
RCB had a wonderful game against the Kings XI Punjab and looked all set for a great campaign ahead. Instead against the Mumbai Indians and Rajasthan Royals, RCB's old bowling woes seemed to have re-emerged this season, despite of all the talk of the most balanced team ever. The bowlers have failed to live up to the reputation and have given away a lot of runs, allowing the opposition to run away with the game.
The Delhi Daredevils are one of the most shocking performers this season. With oozing talent and youngsters in the dugout, DD have failed to come together as a unit, much like the RCB. A bit of a break from their last encounter would have helped to refocus and prepare for the encounter at Bengaluru tonight. A win today allows Delhi to head back to the home matches with a lot of confidence.
Virat Kohli and AB de Villiers are automatic pics for the batsmen to watch out for in a RCB encounter because they are the greats of the game and the team looks heavily dependent on them for a good performance. AB's national teammate Quinton de Kock has not yet showed what he is truly capable of in this season and tonight could be his night.
DD's batting revolve around skipper Gautam Gambhir's consistency. A Gambhir in good form means half of the problems solved for the franchise. Be prepared for the Glenn Maxwell show as well for Maxwell would be desperate for a long innings in the context of a T20 game. Jason Roy could be another threat at the top of order for the RCB bowling.
Trent Boult and Umesh Yadav who have had good and bad moments in the tournament will need to show some more maturity in their respective franchises and perform consistently. Yuzvendra Chahal and Rahul Tewati are the other bowlers to watch out for, considering the short boundaries at Bengaluru.
A great game of cricket is on the cards from the garden city. Broadcast Starts at 20:00 Hours (IST).