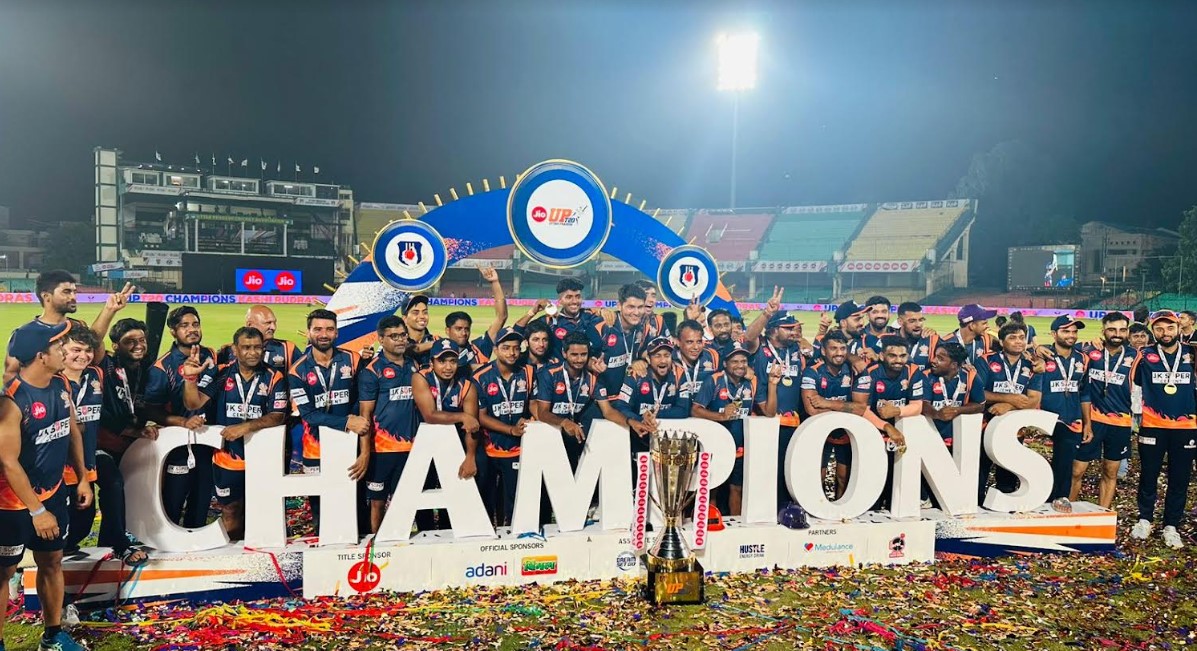 Kanpur: A throbbing Green Park Stadium in Kanpur witnessed Kashi Rudras secure an emphatic 7-wicket victory against the Meerut Mavericks to become the first ever champions of the Jio UPT20. Electing to field first, the Kashi Rudras rode on the back of potent spells from Boby Yadav (3/30) and the purple cap holder, Atal Bihari Rai (3/21) to cripple Meerut's formidable batting line up, restricting them to 146/8. Kashi's successful run chase was yet again orchestrated by the season's orange cap holder, Karan Sharma (76). Shiva Singh (30) and Prince Yadav (32*) also made key contributions to help the Kashi Rudras sail home with seven wickets and five balls to spare.
Invited to bat first, the Meerut Mavericks began with an uncharacteristic stumble. A fired-up Kashi bowling unit ensured Meerut were faltering at 34/4 by the end of the powerplay. In a dream spell, Boby Yadav picked up the crucial wickets of Swastik Chikara (18), Madhav Kaushik (0) and Rinku Singh (4). While Atal Bihari Rai picked up the wicket of the explosive Uvaish Ahmad (9). Southpaw Rituraj Sharma (53) and Shoaib Siddiqui (10) labored to steady the ship in the middle phase before the 32-run alliance was broken by Prince Yadav in the 11th over. Divyansh Joshi (40) joined Rituraj Sharma with the score reading 64/5 to further Meerut Mavericks' recovery with a 67-run partnership. Both batsmen played exceptional knocks. Rituraj Sharma's impeccable half century that came in 37 deliveries, comprising four fours and two sixes, was eventually ended by Atal Bihari Rai in the 19th over, while Yash Garg (0) departed in the same over without troubling the scorers. Divyansh Joshi perished in the final over to M. Sharim that saw only 7 runs to ensure the Meerut Mavericks finished at a fighting total of 146/8.
In response, the Kashi Rudras looked to dominated in the powerplay. Openers Shiva Singh (30) and Karan Sharma (76) asserted themselves early on with the pair racing to 57 runs before Karik Tyagi stunted their progress in an otherwise expensive over with two wickets in consecutive balls, scalping Shiva Singh (30) and Priyanshu Pandey (0). At the end of the powerplay, the Kashi Rudras were placed at 57/2. Prince Yadav joined the well settled skipper, Karan Sharma as they constructed a match winning partnership of 84 runs. Karan Sharma secured his fifth half century of the tournament, a well-paced knock that came about in 42 deliveries. At the end of 15 overs, Kashi Rudras were the clear frontrunners to bring home the trophy, placed at 116/2 they needed 31 runs in 30 balls. In the dying embers of the innings, Karan Sharma was dismissed by Purvank Tyagi with the equation asking for a comfortable 6 runs in 15 balls. With the scores tied, Prince Yadav smashed a boundary in the final over to mark a 7-wicket victory for Kashi Rudras.
End of Season Awards
JIO EMERGING PLAYER OF THE SEASON: Swastik Chikara – 494 runs
Super 6s of the season: Sameer Rizvi – 35 sixes
Most Economical bowlers of the season: Bhuvneshwar Kumar - economy rate: 6.7
Moment of the season: Mohd Sharim's catch against the Lucknow Falcons
Purple Cap (most wickets): Atal Bihari Rai – 25 wickets
Orange Cap (most runs): Karan Sharma – 606 runs
Most valuable player of the season: Karan Sharma
Runners Up: Meerut Mavericks
Winner: Kashi Rudras
Brief Scores
Kashi Rudras crowned champions of Jio UPT20
Kashi Rudras won by 7 wickets
Meerut Mavericks: 146/8 in 20 overs (Rituraj Sharma – 53 runs in 39 balls, Divyansh Joshi – 40 runs in 29 balls, Swastik Chikara - 18 runs in 9 balls, Boby Yadav – 3/30, Atal Bihari Rai –3/32, Prince Yadav – 1/9, M. Sharim – 1/23)
Kashi Rudras: 150/3 in 19.1 overs (Karan Sharma – 76 runs in 57 balls, Shiva Singh - 30 runs in 18 balls, Prince Yadav – 32* runs in 34, Kartik Tyagi – 2/45, Purvank Tyagi – 1/20)