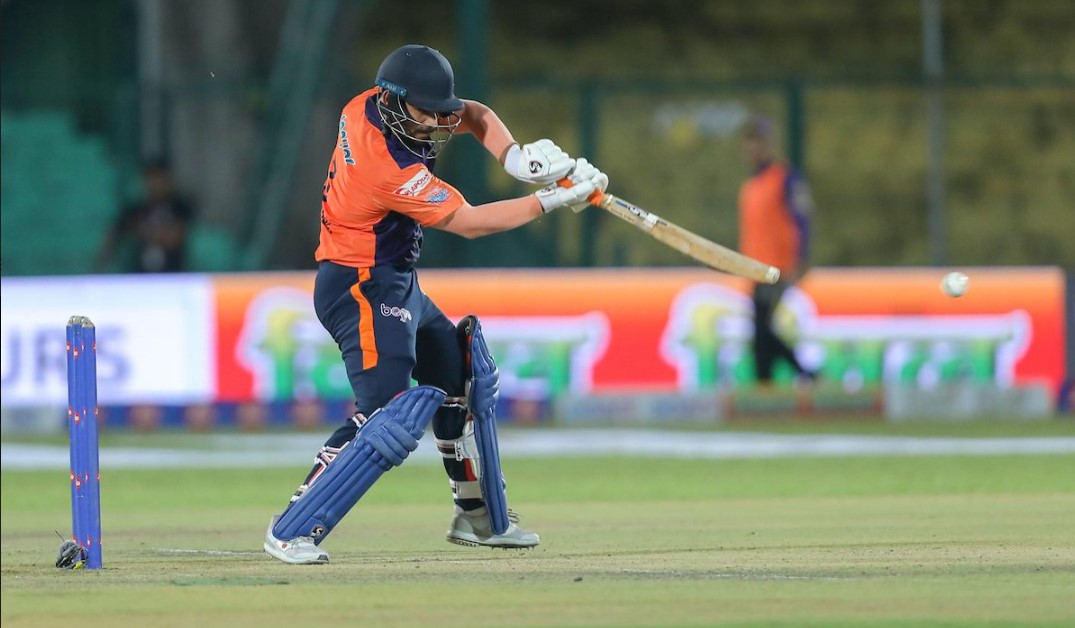 Kanpur: In a captivating rain-shortened duel at the ongoing Jio UPT20 at the Green Park Stadium in Kanpur, with the match reduced to eight overs an innings, the Lucknow Falcons exhibited their dominance against the Gorakhpur Lions, securing a resounding 10-wicket victory. Spearheading the Falcon's triumph was the remarkable Nadeem (3/13) with his stingy bowling spell, staunchly restricting the Gorakhpur Lions' progress. Complementing his efforts, the composed duo of Shaurya Singh (49*) and Harsh Tyagi (29) orchestrated a tremendous 82-run partnership, steering the Lucknow Falcons to a comfortable 10-wicket win and handing the Gorakhpur Lions their fifth defeat of the tournament.
Electing to bat first, the Gorakhpur Lions had a turbulent start with a powerplay that saw runs and wickets. Playing his first game of the tournament, Dhruv Jurel (7) was dismissed by Vikrant Chaudhary, followed by Siddharth Yadav (0) on the very next ball, ensuring the Gorakhpur Lions finished the two-over powerplay at 20/2. After a quick contribution, Sameer Chaudhary (13) was the next man to go, departing after a brisk knock of 13 runs in seven deliveries at the hands of Kritagya Singh. At the halfway mark of four overs, opener and captain Abhishek Goswami (31) was leading the charge with 19 runs in just nine balls and the Lions were placed at 45/3. Goswami's knock ended in the penultimate over of the innings when he was dismissed by Nadeem who also picked up the wickets of Yashovardhan Singh (6) and Harshit (2) to restrict the Falcons. Shivam Sharma also contributed 11 runs before he became Vikrant Chaudhary's third victim of the night in the final over. The Gorakhpur Lions finished at 78/8.
Despite a depleted top order with the omission of Priyam Garg due to injury, the Lucknow Falcons' openers, Shaurya Singh and Harsh Tyagi started well to finish their powerplay at 18/0. However, despite the lack of a breakthrough, the Gorakhpur Lions did well to limit boundaries and curtail the run rate in the ensuing overs. At the end of four overs, the Lucknow Falcons were falling behind the equation having scored only 28 runs. The fifth over, bowled by DP Singh, however proved to be decisive as Shaurya Singh worked three fours and a six to complete a 20-run over. With the equation brought down to 14 runs needed in 12 balls, the pair of Shaurya Singh and Harsh Tyagi ensured the Lucknow Falcons won by 10 wickets in the penultimate ball of the match.
All matches are live on JioCinema - Watch Sports, Movies, TV & Voot Shows Online in HD Quality
Brief Scores
Lucknow Falcons won by 10 wickets and one ball remaining (match reduced to eight overs)
Gorakhpur Lions: 78/8 in 8 overs (Abhishek Goswami – 31 runs in 16 balls, Sameer Chaudhary – 13 runs in 7 balls, Shivam Sharma – 11 runs in 9 balls, Nadeem – 3/13, Vikrant Chaudhary – 3/22, Kritagya Singh – 1/12, Yash Dayal – 1/18)
Lucknow Falcons: 82/0 in 7.5 overs (Shaurya Singh – 49* runs in 29 balls, Harsh Tyagi – 29* runs in 22 balls, Dhruv Pratap Singh – 0/28, Shivam Sharma – 0/22, Abdul Rehman – 0/14)