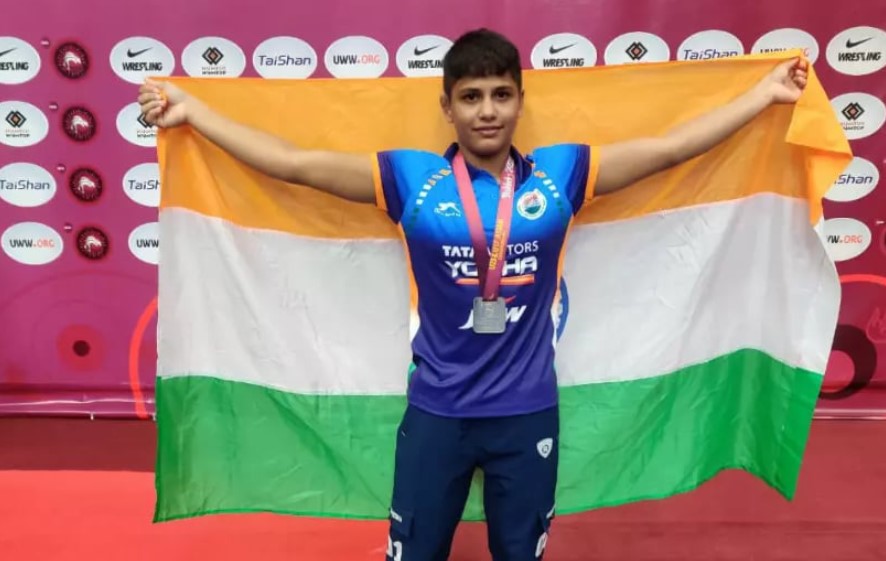 New Delhi: For defending champion Antim Panghal, the opportunity to become India's first-ever Indian woman wrestler to win back-to-back Gold medals at the World U20 Wrestling Championships was an exciting prospect. But up against Ukraine's Mariia Yefremova in the 53kg final in Amman, Jordan on Friday last week, the 19-year-old wrestler knew she was in for a tough outing, despite dropping just two points en route to the final.
Using her quick movements and double-leg attacks, Antim dominated Yefremova and sealed the bout with a dominant 4-0 win to achieve the historic milestone. On being asked about her accomplishment during a media briefing on Thursday, Antim said she is proud to bring laurels for the nation.
"The last time I went for the U20 World Championships, I was informed by my coaching team that no Indian woman wrestler had achieved a Gold medal, and I was the first one. This time, too, I wanted to create another historic moment and become the first Indian female wrestler to win the Gold medal twice at the World stage. I am really proud of the achievement and I hope to continue to make the nation proud," said Antim.
But the road for Antim in 2023 has barely begun. One of the current top Indian wrestling prospects, Antim, who is currently in her debut year in the senior circuit, will be keen to earn a qualification for the Senior World Championships when she competes at its trials, set to take place between August 25 and 26, in Patiala.
Moreover, the JSW Sports athlete has already earned a qualification for the upcoming Asian Games in Hangzhou, which will take place between September and October. Antim, who hails from Hisar, will represent the Indian contingent in the 53kg category.
"Training has been going really well and I have received a great deal of support from my coaching staff, my peers, and JSW Sports at every stage. I will be competing at the World's Trial on 25th August and hope to earn a chance to compete in my first Senior World Championships. For the Asian Games, we have already started training and we will soon be holding a training camp as well. I will work even harder to ensure I can earn a podium finish in the Continental tournament," added Antim.
With the upcoming Asian Games her debut at the prestigious championship, the young wrestler says she will not take any opponent lightly.
"All the countries have equally strong medal contenders. I will be competing at the Asian Games for the first time. I am yet to see the level of competition that awaits me in such a big competition. I am focusing on my training to ensure I am prepared in every way," she said.
An important aspect of her routine these days is yoga and meditation, which Antim believes helps her in keeping her nerves calm, while also ensuring she remains relaxed despite preparing for multiple tournaments, simultaneously.
"Now that I've won a few medals, there is the running thought that at any moment I may not be on the podium. But at the same time, I also feel motivated by this pressure. I keep telling myself that if I can win Gold in one competition, then I can continue to keep achieving the same milestone in other tournaments as well. Yoga and meditation have also helped me a lot in dealing with the rigorous aspects of training and competition," she added.
Further detailing her everyday routine, Antim said that she begins her training in the early hours of the day and keeps a strict diet to ensure she manages to make her weight cuts for the competitions.
"I wake up at 4 AM and go for training at 5 AM, and return at 9 AM. During training, I eat almonds, and after returning I eat porridge (daliya) and roti. A week prior to competitions, I cut down on milk and anything with milk. After my training, I also take out time to do a bit of meditation and yoga. I manage to get some sleep at noon, and then return for training in the evening," Antim said.
Transitioning from Junior to Senior level is always a challenging aspect for any athlete and Antim feels she needs to continue putting in even more hard work on the training grounds to compete at the highest levels.
"I have been winning at the Junior level but it is completely different at the senior level. There is always slightly more pressure at this stage, as there are more eyes on you. The hard work has just begun. But it feels great to see the support that I have been receiving from the country and I hope to continue the success story at the senior level," Antim signed off.