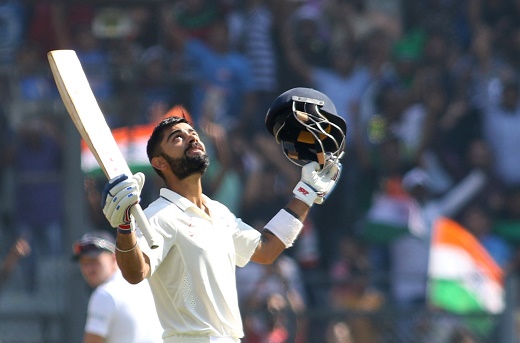 In the second Test of the India-South Africa Test series, Virat Kohli entertained his fans by a 'Virat' innings. Although Virat had been amongst the runs in his last 10 innings prior to that match, Virat produced a masterclass of an innings in the second Test and showed the world why he is regarded as one of the best in the world. With this, ViratKohli left behind 10 batsmen with most runs in Test match cricket.
Entered 7000 runs club in Test match cricket
Virat Kohli became the latest addition to the list of batsmen who have scored 7000 or more Test runs. Only 49 batsmen in World Cricket have managed to reach to reach this achievement. Prior to the Pune Test, Virat had 6800 runs to his name but against the Protean bowlers Virat scored a mammoth 254 runsin the first innings of the Pune Test to take a massive jump in the list of highest run getters.
Left behind 9 batsmen in the list of highest run getters in Test cricket
During his daddy hundred against the South African team in the Pune Test match, Virat did not leave behind one or two batsmen in the list of highest run getters in Test match cricket but as many as nine. These nine players include batsmen like Don Bradman and even former Australian captain Steve Smith. Only one double hundred changed the record books for the Indian skipper and by the way he is going.
| | |
| --- | --- |
| Batsmen | Test Runs |
| ViratKohli | 7043 |
| Joe Root | 7037 |
| Andrew Strauss | 6996 |
| Don Bradman | 6973 |
| Steve Smith | 6973 |
| SanathJayasuriya | 6971 |
| Len Hutton | 6868 |
| DileepVengsarkar | 6839 |
| Ken Barrington | 6806 |
It is worth highlighting here that Virat had 6800 runs prior to the start of the Pune Test.
Breaks yet another Sachin Tendulkar record
As soon as Virat Kohli scored a double hundred in the Pune Test, Virat became the Indian with the most number of double hundreds in Test match cricket. This was Virat's seventh double hundred in his career The second on this list is VirenderSehwag and Sachin Tendulkar who scored 6 double hundreds each.
Ended a run drought from Virat's standard
In the last 7 innings prior to the Pune Test, Virat had made 210 runs. However, in the Pune Test, Virat made a massive 254 runs and broke his own record of the highest individual score. His previous best individual score was 243 runs. Although there was a possibility that Virat could have gone for a triple hundred but he went ahead and declared the innings and gave the Indian bowlers enough time to dismiss the opposition twice and help India win by an innings margin.