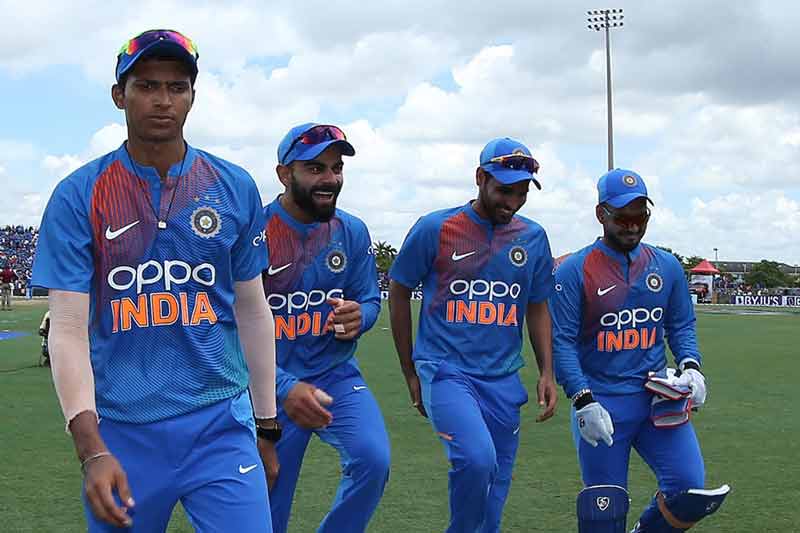 It was a dream debut for Navdeep Saini, as the fast bowler's 3 for 17 in four overs helped India restrict West Indies to a paltry 95 in the first T20I at Lauderhill on Saturday and later the Men-In-Blue achieved the target in 17.2 overs with four wickets in hand.
Praising Navdeep, who also got the man-of-the-match award for his superlative performance, India's skipper Virat Kohli said that the Delhi bowler had come a long way. "Navdeep is from Delhi. He's come a long way. He had a great IPL season as well. He is a raw talent. Not many bowlers who can bowl 150 clicks. Hopefully he builds on from here," said Kohli, adding that the Indian bowlers were on the top throughout.
"Bowling and fielding were right up there. However, the pitch wasn't great. With the rain around, you couldn't do much, I guess. They did well to start the game on time. Bowlers were on top throughout. Their variations were superb. We would've liked to chase it four down, but we wanted to take risks and take the scoreboard moving. As the ball got older, strike rotation became key. It's just about putting in solid performance.," said the skipper.
Meanwhile, West Indies skipper Carlos Brathwaite said, "Once again we did not assess the conditions well. Kudos to Kieron (Pollard) coming back into the team. He showed his experience. Had we made 130, it would've been a different game. We batted ourselves out of the game. We have to play positively. The message will continue to be to keep intent. But we need to have better shot selection and awareness. Sunil's four overs were very important. He showed his experience. He brought us back into the game. It was a great bowling effort."
Sunil Narine, meanwhile, said that it was always good to be back in maroon. "Being able to perform for the country is a proud moment. Fitness is there, finger is now 100%. We have to play positively, start well in the Powerplay, whether we're batting or bowling. We've to start winning matches."