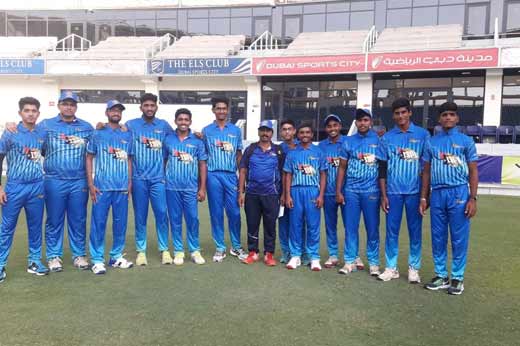 Dubai: In a sensational finish,Hyderabad Hawks came back from behind to pip Ranchi Booster in the 'Super Over' after both teams were locked in a tie after the mandatory 20 overs, to enter the semifinals of the path-breaking Indian Junior Players League Talent Hunt here at ICC Academy Oval 2 ground on Wednesday. Joining them in the top-four are Punjab Tigers, who thrashed UP Heroes by 32 runs in the other quarterfinal match, while in a late match held last evening, Rajasthan Roarers beat Chennai Champs by 16 runs.
The stakes will be high in the IJPL semifinals to be played on Thursday, as Dehradun Rockers take on Hyderabad Hawks while Punjab Tigers face off Rajasthan Roarers. The IJPL champion stands to win a purse of INR 21 lakh and the runners-up will take home INR 11 lakh in prize money.
The Ranchi Boosters-Hyderabad Hawks quarterfinals witnessed a number of twists and turns. Electing to bat, Ranchi Boosters skipper Shane Ali justified that the team batting second was seen to be crumbling under pressure in the IJPL Talent Hunt so far. It proved almost prophetic despite Ranchi Boosters' appalling batting which folded up for just 84 runs in 19.5 overs. While Shani Ali (24 runs off 20 balls) started off on the right note, the other Ranchi batsmen lacked a sense of urgency or plan for this crucial match. In contrast, the Hyderabad Hawks bowlers rose to the occasion with Sai Vihari Sivalenka (4/16), Sai Akash Chowdhary (2/8) and Fahad Nawaz (2/11) accounting for the spoils.
In another twist, Hyderabad Hawks collapsed in the batting department as their batsmen fell like nine pins. While the Hawks had successfully attacked through their spinners, Ranchi Boosters' medium-pacers brought the Hyderabad batsmen on their knees. Sai Vihari Sivalenka played the saviour once again, scoring 32 runs off 49 balls, which played a key role in ensuring a tie for the Hawks as they reached 84 for nine wickets in 20 overs.
As per the rules, the knock-out phase matches are to be decided on 'super over' in case of a tie. In the end, Ranchi Boosters lost their nerves and responded with only four runs for two wickets in response to Hyderabad Hawks' seven runs for one wicket in their respective super over.
Brief scores: Hyderabad Hawks beat Ranchi Boosters in the Super Over. Ranchi Boosters 84 runs all out in 19.5 overs (Shane Ali 24 runs off 20 balls, Harshit Raj 16 runs off 31 balls, Sivam Mishra 10 runs off 13 balls; Sai Vihari Sivalenka 4/16, Sai Akash Chowdhary 2/8, Fahad Nawaz 2/11).Hyderabad Hawks84 for nine in 20 overs(Sai Vihari Sivalenka 32 runs off 49 balls, Sai Akash Chowdhary 21 runs off 23 balls; Arpit Kumar 2/10, Abhishek Kachchap 1/12, Shane Ali 1/9).
Punjab Tigers 133 for seven in 20 overs (Bheem Kanwar 47 runs off 44 balls, Monarch Goyal 24 runs off 32 balls, Yugam Gautam 17 runs off 13 balls; Yajurveda Janmeda 4/16, A. Chaturvedi 2/32) beat UP Heroes 101 runs in 19 overs (Yajurveda Janmeda 31 runs off 20 balls, A. Chaturvedi 17 runs off 18 balls; Yugam Gautam 5/13, Manpreet Saini 2/15, A.K. Mehly 2/29).
Rajasthan Roarers 119 all out in 19 overs (Devesh 33 runs off 32 balls, Keshav Sharma 21 runs off 19 balls, Younus Ali 14 runs off 13 balls; Salman Khan 5/23, Renju Koshy 2/31) beat Chennai Champs 103 in 19.3 overs (Vignesh 26 runs off 28 balls, Sriraman 16 runs off 16 balls, Vishal 15 runs off 20 balls; Ajay Tanwar 4/25, Akasha 2/4, Younus Ali 2/28).
Semifinals at Dubai International Cricket Stadium:Dehradun Rockers v Hyderabad Hawks (10am onwards LST); Rajasthan Roarers v Punjab Tigers (2pm onwards LST)