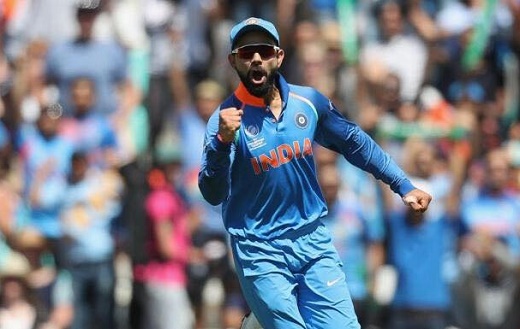 The Indian skipper is a perfect example of someone who becomes aware of his potential quite early and then does everything in his powers to make sure it does not go waste.
With every passing day, Virat Kohli's stature seems to be enhancing and at the moment it seems that he is well on his way to becoming a legend who will be talked about in the legions of cricket followers in particular and sports lovers in general for years to come.
The Indian skipper is a perfect example of someone who becomes aware of his potential quite early and then does everything in his powers to make sure it does not go waste. Last week, he issued statements that put things in perspective regarding the sort of person Kohli is turning out to be. As per the reports, he declined to endorse an aerated drink as he claims he does not drink any. Any lesser mortal would have gleefully accepted the hefty amount and danced around with a bat in the hand to promote something he does not believe in. No such dilemma for Kohli though. He has achieved unreal levels of fitness and he believes the real stories of hard work and sacrifice need to be told to youngsters and aspiring sportspersons.
Listening to him, one realizes the amount of self-discipline he possesses which helps him to keep scaling one height after the other. After all, how many of us would give up those fried delicacies and consume only a fistful of grams with water in an effort to alter the diet. He sees the larger picture much better than most. For example, he has pledged to donate Rs 2 crore every year towards betterment and uplifting of sports other than cricket. This gesture indicates a young man with his heart in the right place. He desires to see India not only as a cricket centric nation but also as a sporting giant.
On the field, he continues to let his bat speak for itself. He symbolises the new India – a young nation that is fearless – that talks in the tone the opposition understands. Most Indian cricketers of the past looked away when confronted by an aggressive opponent. Tendulkar did not speak to them, Dravid went a step ahead and did not listen to them and then came Virat Kohli who listens and then gives it back with interest compounded every single moment and he does all this while still dispatching the best bowlers in the world to the fence. In fact, coaches around the world caution the teams playing against India, not to provoke Kohli as it wakes up the giant within which leads to total annihilation on the cricket field. Kohli has remarkably toned down his body language and language as he has had more responsibility on his shoulders and knows that youngsters watch him and want to emulate him. He is an icon who seems to be getting bigger with every additional responsibility thrust upon his very capable shoulders.
Talking of capability, it would have required a very brave soul to walk into the shoes of a colossus that is Mahendra Singh Dhoni. It is a privilege to see Kohli seeking advice from the senior statesman and even letting him set the field for young bowlers. This shows the kind of confident young man he is. He is not someone who is insecure about his place in history and hence tends to focus better on more relevant issues on the field than just his individual act.
Critics argue with statics under their arms that Kohli is not as outstandingly great as Sachin Tendulkar and Vivian Richards were in their generation. Though these two legends were head and shoulders above the others who played alongside or against them, Kohli has brought in a new wave of fearlessness and swagger with him. He is already being touted as someone who has a realistic chance of scoring a hundred international hundreds after the great little master but in a manner befitting a future great he responded to that as something he does not think of. He might celebrate with greater roar when team wins even he walks away from the field having scored a duck. Virat Kohli already has a World Cup to his name but by the looks of it he does not seem too content with just one – greed is good. Let us get another one home.