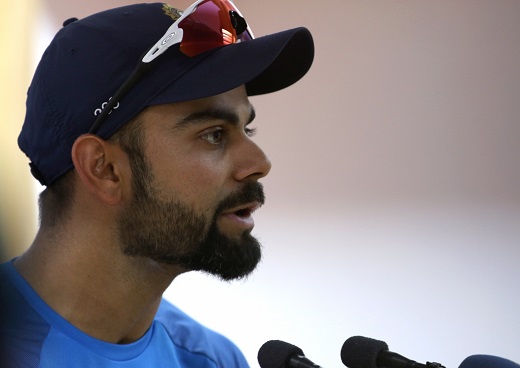 Indore: Though Australia were in a good position till the 35th over – thanks to a fantastic century from Aaron Finch – Indian bowlers came back strong and restricted the Aussies to 293 for 6 in 50 overs in the third ODI played at Holkar Cricket Stadium, Indore on Sunday. Thereafter, India got to a rousing start as Rohit Sharma and Ajinkya Rahane added 139 runs for the first wicket. Then Hardik Pandya (78 off 72 balls), who was promoted up the order, showed his batting prowess once again and took the game away from the visitors.
Talking about Pandya, Indian skipper Virat Kohli said, "He's a star; has the ability with the ball, bat and the field. We need a guy like him. We've been missing an explosive all-rounder. He is a great asset for Indian cricket. The idea behind his promotion was Ravi bhai, to attack the spinner. We might try few players now, but mindset remains the same. Journey stops only after the fifth game."
Australian skipper Steven Smith said: "We set it up beautifully, the first 37-38 overs and put in ourselves a good position. Indian bowlers executed well, we executed poorly. We needed 330 plus. Hardik was magnificent in end there. Finchy played magnificently, the wicket slowed up a little bit for both teams. The ball came on for the first 35 overs in both innings, but the slowed up, when it did for us, we weren't good enough."
Kohli said, "Steve mentioned the first 35 overs was good from their end, we knew when we get 2-3 wickets with their lower middle order, we could pull things back. It was a 330-340 wicket. Coming back from difficult situations has been a feature of this team. Wristspinners need to be backed, they won't always get grip from the wicket, but they possess the ability to get wickets. They were 35-40 runs short. I'm really, really satisfied with the win.
Hardik Pandya, who was the Man of the Match, said: "It feels pretty good. I would like to finish the game next time. I don't need to be surprised. It's important to back myself and saw it as an opportunity. I wanted to target the left-arm spinner and when I got a few sixes, I knew I could take some time. I try to contribute everywhere I can, I want to get better."