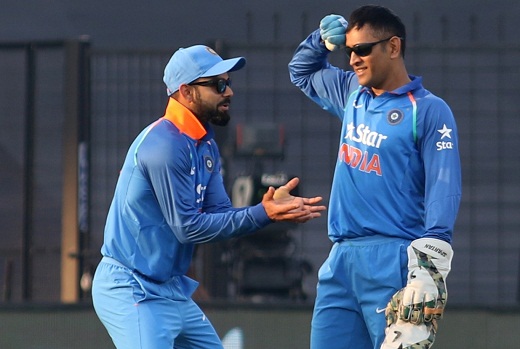 The 5th ODI between India and Sri Lanka summed up the entire series, a team at the peak of its powers experimenting with the balance of the side, keeping in mind Mission 2019 and the other going through a transition time, big time, even thestars of the team, from what appears from the outset, are past their prime. India went into the 5th ODI with as many as 4 changes, playing 5 specialist bowlers for the first time in the series, yet managing to win convincingly and Sri Lanka after putting on their first century stand of the series in the final ODI once again lost their last 7 wickets for 50 odd runs and didn't manage to do justice to the platform provided by AD Mathews and HDRL Thirimanne and their only real intent to win a match.
Let's have a look at a crucial moments of the match
Bhuvi's spell
Bhuvneshwar Kumar started brilliantly with the new ball for India picking up wickets in his first spell and later coming back to break the century stand of the Mathews and Thirimanne. Bhuvi was accurate and in his groove right from the word go, picking up 5wickets for 42 runs and eventually going on to become the player of the match, for his outstanding effort.
Mathews and Thirimanne show intent
Because UpulTharanga played a brief cameo with a strike rate of over 100, even though Sri Lanka lost wickets they were scoring at over 6 runs an over. This allowed Mathews and Thirimanne to settle down, take their time and lay a platform for the middle and late order to score quickly. Their partnership was studded with intelligent stroke making with minimum risk involved, but the team failed to capitalize on the partnership and was a victim of yet another, rather dramatic, batting collapse.
Another chance of coming back
Sri Lanka struck twice, early in the innings, with both the openers dismissed in the infancy of India's run chase. But Chase master ViratKohli built two partnerships, one with his friend from Under 19 Days, Manish Pandey, the other with the Maharashtra ladKedarJadhav, both of whom are struggling to cement their place in the playing 11. Sri Lanka allowed the partnerships to flourish and Kohli needed no second invitation to grab the series whitewash opportunity with both hands.
Virat Kohli, chases, hundreds
All of these coming together have become a sort of a routine. Another chase, another hundred from Virat Kohli- game, set and match. A Test Whitewash followed by an ODI whitewash, all too easy for the Indian Skipper at the moment. Virat held the chase together and never let it go beyond India's reach. With the class of Kohli, 239 was never a difficult total.
The two teams are set to play their lone T20 encounter on Wednesday, September 6, 2017.
Live from the R. Premadasa Stadium, Colombo
7:00 PM (IST)