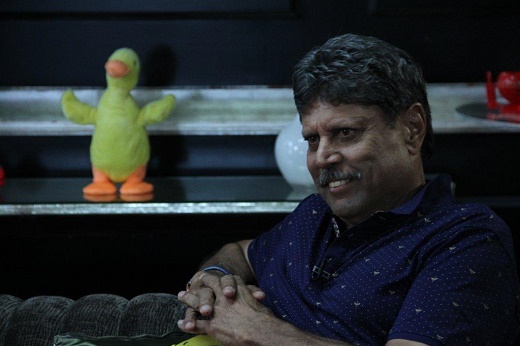 MUMBAI: June 25, 1983 marks India's historic win when the then Indian captain Kapil ev held aloft the prestigious Prudential Cup in the Lords balcony. It was under this man's leadership that got India to win its first World Cup. Video-on-demand service Viu, brings to viewers Kapil Dev in a different avatar in the latest episode of What The Duck 2.
The World Cup winning captain expresses being extremely proud to play for the country despite having limited facilities provided to the team during that era. He goes on to state that he feels lucky to have played for India, only a legend like him can be so humble and modest.
The man who invented the Nataraj shot, speaks highly of fellow player Navjot Singh Sidhu who evolved from being a reserved and introverted cricketer to shining as a cricket commentator and a full-fledged politician. Kapil Paaji reminisces about the delicious food that would be served to the team by Sidhu's father on account of his love for cricket. He jokingly also mentioned that if you wanted good food at Sidhu's house, all you need to do is compliment Sidhu's cricketing skills in front of his father and that will help you fulfil any hunger pangs for great Punjabi food. He fondly calls Navjot Singh Sidhu his brother, a clear indication of the bond he has built with fellow players over the years.
Kapil Dev, nicknamed the Haryana Hurricane was noted for his smooth and graceful action. However, he had a very potent out swinger, which outdid the very best of batsmen in world cricket. He speaks about his famous flitching of the cricket jersey prior to bowling his delivery to be totally unintentional and natural. He mentions that the quality of clothes at that time was such that it would stick to one's body due to the sweat. The action was merely to make oneself comfortable, but as they say a famous person's mannerisms take no time to become the talk of the town.
Possibly India's best all-rounder goes all out to say that success in cricket is an amalgamation of hard work, self-confidence and self-belief. Superstitions, plenty in the game of cricket, had no room in his life as he was clear that to combat all fears, the only thing needed was concentration and focus. He reveals an instance, where the chain on his neck, touched the bat and that shot saved him from getting out in one game. He did not want to fall prey to such beliefs hence immediately got rid of all the ornaments he was wearing.
Talking about the second phase of his life, he tells us why he opted out of cricket after a long stint with the game. He narrates the down side of cricket as well and the instances that deterred him from taking up a second innings.
From narrating funny stories about his tryst with the media to revealing the most bankable player, Kapil Paaji is at his candid best and will leave audiences wanting for more. If you want to know the funniest answer that Paaji gave to the one question that he has always been asked 'When will India produce another Kapil Dev, then it's a click away on your mobile screens.