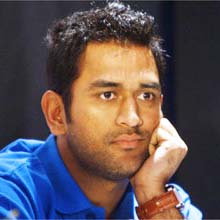 Antigua: Fine batting display by veteran Mahendra Singh Dhoni (78 off 79 balls) and Ajinkya Rahane (72 off 112 balls) followed by some superb bowling from the spinners – R Ashwin (3 for 28) and Kuldeep Yadav (3 for 41) helped India beat West Indies by 93 runs in the third ODI played at Sir Vivian Richards Stadium, North Sound, Antigua on Friday.
Dhoni, the Player of the Match, when asked about getting better with age, said, "It's like wine."
"Top order has been doing the bulk of the scoring in the last one-one and a half years, so it felt good to get an opportunity and score runs. I think it was the nature of the wicket. Variable bounce, and at times the pace. It was important to have a partnership at that stage. In my mind I had 250, and we got there, with Kedar batting with me at the end. It was something the bowlers could defend, but they had to bowl well. It's important to instruct and mentor spinners. Kuldeep has played a lot of games, IPL, T20 format. When it comes to international cricket, it's important to know where to use your variety. Once he plays 5-10 games, he will realise it himself. The good thing is, compared to the last game, he bowled very well today," added the veteran.
Indian skipper Virat Kohli said: "I think it was a clinical performance again. Early on there was quite a bit of moisture, it was a good toss to win, and they bowled really well. It was a good batting effort to get us to 250. The wicket played much better in the second innings. The bowlers created pressure and got breakthroughs at the right moments. It's about putting your hand up at the right time, it's about how many people can stand up and put in those performances. We'll surely look into making changes. We have quite a few players who haven't had a game in a while."
Meanwhile, West Indies captain Jason Holder said, "Bowlers did a hell of a job. We put in a real good effort in the first 10 overs. If there is any criticism, we gave away too many runs in the back end. We've got to come hard, we've got to address our batting. In the end we've got to bat well.