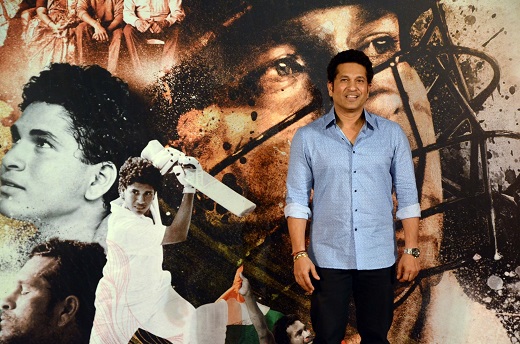 Film: "Sachin: A Billion Dreams"; Director: James Erskine; Cast: Sachin Tendulkar, Anjali Tendulkar, Ajit Tendulkar, Sara Tendulkar, Mayuresh Pem, Mayur More; Rating: ***
"Sachin: A Billion Dreams" is a biopic that gives a holistic view of Sachin Tendulkar's life, who is revered as "the God" of cricket by his fans.
Structurally, the film is designed as a documentary. While the film encapsulates the life of the master blaster right from his birth till date, it also gives an insight into the socio-economic situation of the country, making it feel like heavy-duty stuff.
This may not be the first documentary on Tendulkar, but probably it is the only one endorsed by him. So, you have him as the narrator sharing his personal moments along with his views and fears in a sincere and heartfelt manner.
While the film tells us of his growth as a cricketer which is common knowledge, it also reveals his personal life bringing to the fore his close-knit family and friends. How he got the name Sachin, how he met his wife, got married and how he spends his free moments, are a few of the interesting nuggets shared. So apart from Sachin you actually get to see his family and friends.
The script designed by director James Erskine and Sivakumar Ananth seamlessly encapsulates Sachin's life with archived footages from his personal videos, cricket matches, news clips and clips from various talking heads like ex-cricketers Sunil Gavaskar, Vivian Richards, Wasim Akram, Ravi Shastri, Shane Warne, Ricky Ponting, Virendra Sehwag, M.S. Dhoni, Virat Kohli, Harbhajan Singh, sports journalist Gideon Haigh, commentator Harsha Bhogle, cricket historian Boria Majumdar, singing legend Lata Mangeshkar and megastar Amitabh Bachchan among others. Together, they give a fair insight into the life of Sachin.
Visually, the film with the right blend of footages, is engaging and the narrative arc by default is definitive with a set-up, set-back and the finale - Sachin's retirement speech after winning the 2011 World Cup. The euphoria of the brilliantly played matches is once again relived, giving the plot-graph its required jagged edges.
With a run-time of two hours and 20 minutes, the first half of the film is interesting and fast paced. It dramatically ends on a sombre poetic note. The second half moves at a slower pace and fatigue sets in, nevertheless the film is inspirational.
With editor Avdhesh Mohla's smooth transitions and effective background score by A.R. Rahman, this well mounted documentary will appeal to cricket fans and every Indian.