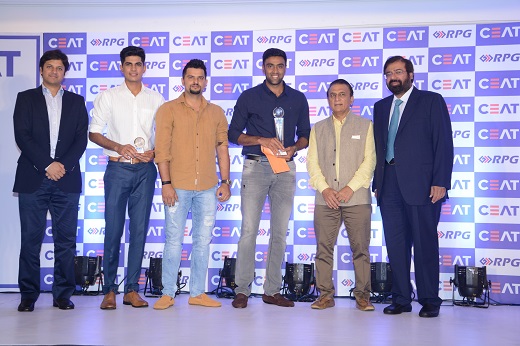 Mumbai: India's right arm off break R Ashwin was announced as the CEAT International Cricketer of the Year for finishing a scintillating year with 99 wickets, which included 9 five wicket hauls. Rewarding and encouraging young talent, India's Shubman Gill who played a great role in Indian U-19 win against England, amassing a whopping 603 runs in 9 games at an impressive average on 67, was awarded as CEAT Young Player of the Year.
CEAT Limited celebrated the success and glory of International cricket with 'CEAT Cricket Rating (CCR) International awards 2017' at a ceremony here on Wednesday. The awards honored the best of International cricketers based on their performances as rated by the CEAT Cricket ratings (CCR) for the year 2016 – 2017.
Harsh Goenka, Chairman, RPG Enterprises, said, "Last year saw a lot of explosive action across all formats of cricket. The year saw some outstanding performances, but some individuals broke away from the pack owing to their blistering and consistent performances throughout the year. Their performances from time to time brought joy to our faces and we are delighted to felicitate one of them at this year's CEAT Cricket Rating Awards. We would like to congratulate R Ashwin and young Shubman Gill for entertaining us throughout the year and would like to wish them the best for the upcoming season."
In the past, the awards have honored the best of the International cricketers based on their performances in international cricket in all formats, i.e. Test, ODI and T20, as rated by the CEAT Cricket ratings (CCR) council.
"Last year I was honored with the International Bowler of the Year award. And it's only become bigger and better with this award – The CEAT International Cricketer of the Year. It's an absolute honor to receive this award and given the players who have won this award before me, it's a huge motivator as well to keep the consistency going. I would like to thank CEAT for their token of appreciation. I am thrilled and feel privileged to be part of an exclusive club," said R Ashwin on receiving the honors.
Speaking on the occasion cricket legend and the chief adjudicator of the CEAT Cricket Rating, Sunil Gavaskar said, "The CEAT International Cricket Awards are one of the most coveted awards in the cricketing world simply because they are given purely on performance and not on any subjective likes or dislikes."
This year CEAT announced its association with India's swashbuckling batsman Ajinkya Rahane, thus strengthening the CEAT roster along with Suresh Raina, Rohit Sharma & former India Under-19 captain Ishan Kishan.