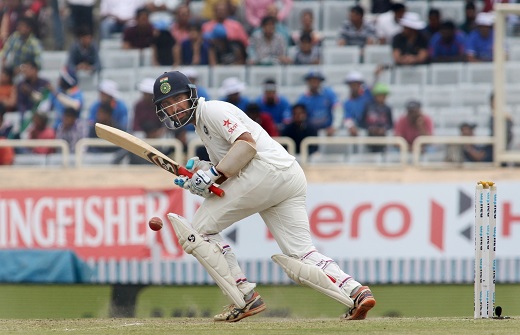 Trent Bridge: Indian Test star Cheteshwar Pujara has signed for a four-match championship stint with Nottinghamshire, the English county cricket club announced on its website on Thursday.
Pujara has replaced Australia pacer James Pattinson, who will be on national duty for the International Cricket Council (ICC) Champions Trophy.
The 29-year-old is available to feature in home and away Specsavers County Championship fixtures against Gloucestershire, as well as matches against Glamorgan and Derbyshire, at the SSE Swalec and Trent Bridge, respectively.
Pujara, who has previously played county cricket with Derbyshire and Yorkshire, will arrive later this month for the resumption of Championship cricket following the Royal London Cup group stage.
"We have looked around the world to find the right player. The most important thing was to sign someone with the quality to make us better, rather than limiting our options by saying it had to be a bowler," Nottinghamshire Director of Cricket Mick Newell said.
"We have depth in our squad with regards bowling and -- particularly as we'll be without Alex Hales during that period -- we're more than happy to welcome a world-class batsman to the club," he added.
Pujara, who has averaged more than 50 on both of his previous stints, in 2014 and 2015 has twice played at Trent Bridge -- on India's 2014 tour and while with Yorkshire.
"I'm ready for it. I'm already working on my skills and preparing for competitive cricket," Pujara said.
"I love playing county cricket and Trent Bridge is a great venue. I'm really looking forward to my first experience there as a home player. The aim is to win as many games as possible so the team stays on top of the points table," he added.