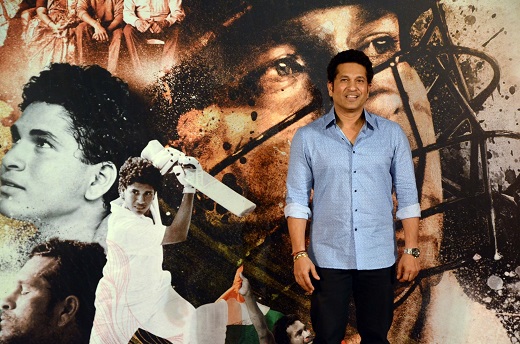 Mumbai: Former cricketer Sachin Tendulkar on Thursday said the upcoming movie "Sachin: A Billion Dreams" is not just about cricket.
"This movie is not just about my cricket career. It has many different chapters and we have tried to show those chapters as well. James has shown many sides of my personality in the movie, which many people are not aware of," said the iconic cricketer.
The cricketer, who was present at the trailer launch of the film at PVR Juhu, said that for him winning the cricket world cup in 2011 was the most memorable moment of his 24-year-long career.
"I was 10 when India won the world cup in 1983. Since then I only had one dream and that was to win the world cup. On April 2, 2011 that dream came true. So without any doubt it is my most memorable moment."
James Erskine, director of the film, said: "I wanted to make Sachin's story since a long time and I didn't know how to collaborate but then Ravi (producer) came to me and talked about this project, it was like telling India's story through one man."
When asked about his views on Sachin's legacy, James said: "I have seen, how Sachin is looked upon, in England so I can imagine how he is in India."
Sachin shared the most interesting part of his world cup memory. He said: "I remember my daughter saying 'the whole Mumbai and the country is celebrating the victory. It took hours for us to reach Taj hotel from Wankhede stadium'."
"Sachin: A Billion Dreams" will see the cricketer in the lead role. The film is directed by James Erskine and produced by Ravi Bhagchandka with a touch of Oscar winning music composer A.R. Rahman.
The movie will hit the theatres on May 26, 2017.