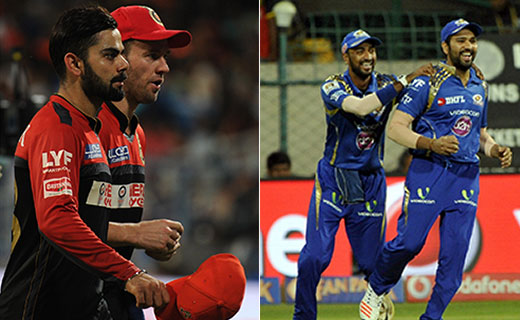 With the comeback of skipper Virat Kohli, Royal Challengers Bangalore will be high on confidence. They need to comeback strongly after their loss to Kings XI Punjab. RCB will be taking on the Mumbai Indians on Friday in match number 12 of the Indian Premiere League season 10.
With Virat Kohli back in the squad, Shane Watson will be relieved from the captaincy job. But his job with the bat and ball is not over yet and will be one of the main players for the RCB unit.
Meanwhile, Mumbai Indians will be very high on confidence after two back-to-back wins against Kolkata Knight Riders and defending champions Sunrisers Hyderabad at their home ground in Wankhede Stadium in Mumbai.
Here are the players to watch for Royal Challengers Bangalore:
• Virat Kohli – With Virat Kohli back into the squad, one will expect RCB to come back to the winning ways. Virat Kohli will strengthen RCB's batting line up. He will be eager to repeat his 2016 run in this IPL season too. Don't be surprised if one sees Kohli and Gayle as openers for RCB. This will bring Shane Watson at number 4 and that will add more depth to their batting which has been inconsistent in their three matches so far. Kohli is the player to watch out for he can change the course of the game single-handedly.
• AB de Villiers – Excellent comeback by the great South African player in the last match! He single-handedly took RCB's total to 148 in their 20 overs. His 89 not out was only plus point for RCB in that match. Now with Virat Kohli's comeback, both the RCB duo will look to repeat what they did in the IPL season 9. AB needs a good partnership to take his team through. He won't find a a more partners than Virat Kohli or Shane Watson. If they could stick around with AB then they could take the pressure off Villiers at the other end.
• Shane Watson – With no captaincy pressure now, Shane Watson is expected to carry on some fireworks in this season. His batting and bowling hasn't been upto the mark till now but now after comeback of Kohli, Watson will be eager to make statement in grand style. The opposition Mumbai Indians too have good all-rounders like Kieron Pollard, Hardik Pandya and his brother Krunal Pandya. But Shane Watson has much more experience than them and has more ability to bring RCB back to the winning ways.
• Yuzvendra Chahal and Tymal Mills – The two bowlers are Royal Challengers Bangalore's most dependable bowlers. One is fast bowler from England and other one is young spin bowler from India. Both are having a terrific season. But unfortunately they are not getting support from their fellow team members. They are the bowlers to watch out in this match. Mills is terrific with his line and length and so is Chahal. If they get good support from other bowlers and fielder than these young guns can take their team to a definite victory.
Players to watch out for Mumbai Indians for their match against Royal Challengers Bangalore –
• Rohit Sharma – The skipper still looks rusty after being forced to take break from cricket due from injury. Meanwhile, the cricket experts aren't comfortable to see Rohit Sharma batting at the number 3 position. His ideal position is as an opener. He has been successful as an opener for India in limited overs cricket. If he opens tomorrow against RCB, then Rohit Sharma can take the game away from them. RCB will have to restrict his onslaught.
• Harbhajan Singh – The terminator bowled very well against SRH. But he needs to hold on that against powerful RCB batting line up as well. Harbhajan's tremendous experience will come in play when MI are bowling. He is the spinner who could turn the table in his team's favour.
• Kieron Pollard – The mighty West Indian all-rounder hasn't been able to get going like his other MI team mates. He should come up the order to give some lusty blows. His contribution can certainly take the game away from RCB.
• Pandya Brothers – The future stars who could play for Indian cricket for long! The Pandya Brothers are the players to watch out for. Their contribution with bat and bowl has been very useful for the Mumbai Indians till now. MI would be hoping that the Brothers will continue with their magic and lead MI to another win