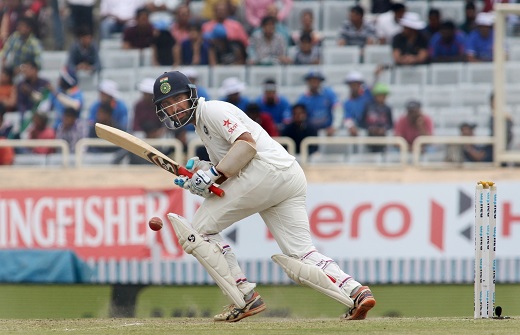 Chesteshwar Pujara is 'The New Wall' of Team India. His marathon innings against Australia at Ranchi's JSCA stadium was the one that saw him becoming the Indian batsman to have faced the maximum number of balls in test cricket history. He faced 525 balls to score his 202 runs.
Pujara came in the bat in the 32nd over after the wicket of Indian opener KL Rahul. He was there till the day 4. His marathon innings ended on 202 when he was caught by Glenn Maxwell on Nathan Lyon delivery.
During his innings of 202, Pujara also build some good partnerships with Murali Vijay, Karun Nair and Warddhiman Saha.
Here is the list of top Indian batsmen to have faced the maximum deliveries in their test knocks:
Chesteshwar Pujara: He is the best No.3 batsman for India in tests after retirement of Rahul Dravid. Against Australia in the 3rd test match at Ranchi, Pujara went pass Dravid for playing the longest innings in test match cricket. Pujara took 525 balls to reach his 3rd double hundred in tests. Due to his solid performance, India were able to save this test match and are still alive in this four-match test series.
Rahul Dravid: Dravid is the only Indian to be included in the list twice. During his knock of 270 runs at Rawalpindi in 2004 against Pakistan, Dravid faced 495 balls for his 270 runs. This was the highest till Pujara went passed that record. Meanwhile, during the England tour of 2002, Rahul Dravid 217 runs epic knock came from 468 balls. Many times it was Rahul Dravid who saved India from defeats.
Navjot Singh Sidhu: The Punjab's Son also features in this list of longest innings. Sidhu took 491 balls for his 201-run knock. His fighting knock ensured that India were in safe position in that test series.
Ravi Shastri: His 206 runs was a hard fought innings. Shastri opened the innings for India. But Navjot Singh Sidhu, Sanjay Manjerkar and Mohd Azaruddin didn't provide the support that they would have liked to. But Dilip Vengserkar's 54 and Master Blaster Sachin Tendulkar's 148 not out gave India a respectable score of 483 in their 1st innings. It was Shastri and Tendulkar stand that allowed India to pile up the score. Ravi Shastri's fighting knock made that possible. That innings took 477 balls and 572 minutes.
Sunil Gavaskar: Batting first, England scored 400 in their 1st innings. But India gave a strong reply -- thanks to the great innings of character by Sunil Gavaskar. He batted and batted for long. His 172 runs from 472 balls made England toil for his wicket. Due to Gavaskar's 172 and the other contributions made by Krishmachari Srikanth and Kapil Dev, India reached 428 in their 1st innings.
VVS Laxman: This 281 runs knock was a very special one for all the Indian fans. VVS Laxman's marathon innings of 281 allowed India to script a famous win against Australia at Eden Gardens in 2001. India was dismissed for just 171 in their 1st innings. Australia enforced a follow on. It was Rahul Dravid and VVS Laxman's 376-run partnership that changed the course of the game. VVS Laxman batted for 631 minutes and faced 452 deliveries for his knock of 281 runs. Australia was bowled out for just 212 runs while chasing the target of 384 set for them by the Indians. Harbhajan Singh's hat-trick allowed India to win this test match by 171 runs