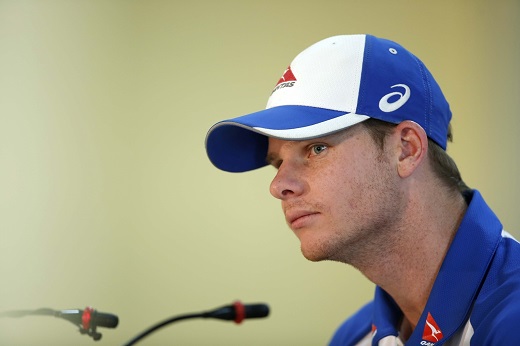 Ranchi: Ahead of the third cricket Test match from Thursday, Australia captain Steve Smith on Wednesday rubbished his opposite number Virat Kohli's allegations that he cheated more than once while taking Decision Review System (DRS) calls. He reiterated that it was his 'brain fade' that led to the controversial incident and he would never do it on a consistent basis.
The second Test in Bengaluru ended on a sour note after Smith was caught looking towards the dressing room balcony for advice on DRS appeal against his dismissal.
"From my point of view I think they're completely wrong. I obviously came out after the game and said I made a mistake and it was an error on my behalf, it was a brain fade," Smith said at the pre-match press conference on the eve of the third rubber here.
"In regard to saying we do it consistently, that's complete rubbish in my opinion. I think he was wrong in his statement," added the 27-year old.
Asked to comment on Kohli's statement that he had no regrets about what he had said after the Bengaluru game, Smith said there is no animosity anymore from his side.
"Not from my point of view... Yeah, it's about moving on and concentrating on this Test here. It's been a great series so far, the cricket that's been played, and hopefully cricket can be the winner out here in the Test match. It's an exciting one, one-all in the series, half way through the series. We're all excited about this Test and hopefully it can be a good one," the right-hander said.
Read more: Focus back on third India-Australia Test post off-field antics
The International Cricket Council (ICC) did not level any charge against any player after the Test and match referee Richie Richardson will bring both the captains together ahead of the penultimate game.
"Perhaps I might be able to ask a few questions. We'll see what the mood is like at that time."
"Kohli obviously stuck by his comments. I think it will be just similar sort of thing with Richie making sure that cricket is the winner this week," Smith said.
"I spoke to Richie Richardson and the other umpires just now. Basically they said cricket is the winner in the Test. Both teams turn to play within rules of the game. We always know that a series between Australia and India is fiercely contested."
"It's between number one and two sides in the world. They understand that, it's just about playing within the boundaries of the game and making sure that cricket is the winner," he concluded.