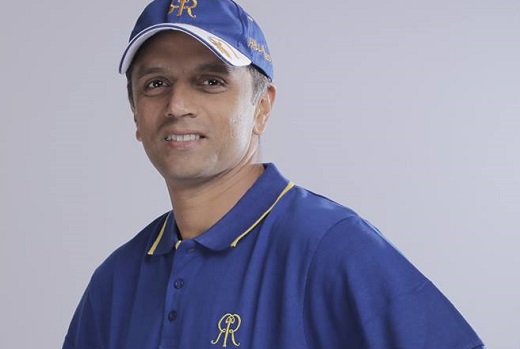 Today 'The Wall' Rahul Dravid turned 44. This Indian batting Legend was always a delight to watch. He is been named as legend alongwith Kapil Dev, Sunil Gavaskar, Sachin Tendulkar, Saurav Ganguly and Virender Sehwag. Rahul Dravid was India's most successful players at home and overseas.
Some cricket pundits also believe that he was a better batsman than Master Blaster Sachin Tendulkar.
The Wall played 164 matches and scored 13,288 runs at an average of 52.31. He has 36 test hundreds and 63 fifties. His best of 270 came against Pakistan at Rawalpindi on 13th April 2004. He also had one wicket to his name as well.
Also read: 'The Wall' turns 44: Top five match winning ODI knocks played by Rahul Dravid
Dravid is always admired for long innings. His presence at the crease was always a headache for the opposition bowlers. He has scored more runs abroad than at home. In 94 matches, he scored 7690 runs. Among his 36 hundreds, Dravid has 21 of them scored overseas. And among his 63 fifties, he has 36 fifties away from home.
He was the batsman for India whenever the team was in pressure situations. He has guided India to many victories.
These are top test innings by 'The Wall' –
1. 180 Vs Australia at Kolkata in 2001 – The most viewed match on the internet. After his failure in the 1st innings, he rescued India by scoring 180 runs in the 2nd innings. India was undone by Glen McGrath's awesome bowling spell. He picked four wickets for just 18 runs and helped Australia bowl out India for only 171 in their first innings. India's innings only lasted for 58 overs. India was enforced follow on by the visitors. Sachin Tendulkar and Sourav Ganguly couldn't contribute much in the 2nd innings as well. It was left to Dravid and VVS Laxman to do the big job. And both Laxman and Dravid rose to this occasion. Australia paid the price because they couldn't get the wicket of Dravid and Laxman quickly as they did in the 1st innings. Their 376-run stand for the 5th wicket helped the hosts to bounce back into the game in a brilliant fashion. Dravid and Laxman ensured that India would win the game. Laxman's 281 and Rahul Dravid's 180 gave India a magnificent total of 657 in their 2nd innings. Harbhajan Singh's hat-trick and Sachin Tendulkar's three wickets helped India to bowl out Australia for just 212 in their 2nd innings. India won this match by 171 runs. This is the only the 3rd win for a team after enforcing follow – on in tests.
2. 233 & 72 not out In Adelaide 2003 – India toured Australia in 2003 for the Border – Gavaskar Trophy. Adelaide Oval hosted the 2nd test match of the series. This test match is quite similar to the Kolkata test. In this test match Australia again batted first and posted 556 runs on the board. Thanks to Ricky Ponting's 242, Simon Kaitch's 75 and Langer's 58. India's openers and lower order couldn't do much. Again the Dravid-Laxman combo rescued the Indians. From being 5 for 88, Dravid and Laxman took India to 388. They both shared 303 for the 5th wicket. But India couldn't get to Australia's 556 despite of Dravid's 233 and Laxman's 148. India managed only 523 runs. Having advantage of 33 runs. Australia managed only 196. Thanks to brilliant spell by Ajit Agarkar. His spell of 6 for 41 helped India to bounce back in the game. Australia had set a target of 230 runs. India was again in spot bother, it looked like Australia will come as winners. But India's most dependable batsmen didn't let that happen. He shared another stand with Laxman. The duo came in again and shared 51 run partnership for the 5th fifth wicket. That helped India to stay in the hunt. Laxman was out to Kaitch just 13 runs short to the target. But Dravid ensured and guided India to another impressive win. He scored 72 and was there to see India home. Contributions of 233 and 72 not out earned him a man-of-the-match in the test.
Also read: Rahul Dravid turns 44! Tendulkar, Sehwag, Gambhir, Govinda wish 'The Wall' a Happy Birthday
3. 270 Vs Pakistan at Rawalpindi in 2004 – This is Dravid's highest score in his test career. This match against the arch rivals Pakistan was played when India toured Pakistan in 2004. Pakistan could only score 224 in their first innings. India gave a perfect reply to their low total. Dravid's spent 12 hrs for his 270 runs. Lot of credit goes to his innings and India scored a huge 1st innings total of 600. This innings also inspired the Indian bowlers. They scalped all Pakistani batsmen for just 245 in their 2nd innings. India won the match by innings and 131 runs. Rahul Dravid was the man-of-the-match. India also won the test series 2-1.
4. 81 and 68 Vs West Indies at Kingston in 2006 – India toured the island nation for a 4-match test series. Dravid's contribution of 81 runs helped India reach 200 runs on the board. But Indian spinner Harbhajan Singh brought the visitors back in the game by picking 5 wickets for just 13 runs. That helped India to bowl out the Windies for just 103. With an advantage of 97 runs, India wanted to score big, but managed only 171 runs in the end. Rahul's 61 in the 2nd innings helped India to post this total. West Indies managed 219 runs but that was not enough. Kumble and Sreeshant good bowling efforts gave India a series win in West Indies. Rahul Dravid was named the man-of-the-match and Man of the series for his wonderful contribution with bat.
5. India Vs England Test Series in 2011 – This test series was last for Rahul Dravid on England soil. His contribution was immense in this series. He single-handily tried to save India so many times. But he didn't get support from any other batsmen. That helped England to trash India 4-0. Dravid's played his heart out. His contributions in 4-match series were – 103 not out at Lords, 117 at Nottingham and 146 not out at The Oval. In four matches, Dravid scored 461 runs. He was the only player to score three hundreds on that tour.