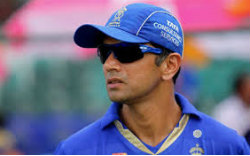 New Delhi:India A cricket team head coach Rahul Dravid feels that India's latest triple-centurion Karun Nair needs to build on his exploits in the recently-concluded Test series against England in order to have a successful career.
Dravid, who is also the head coach of the Under-19 side, said that Nair displayed ample "ability, hunger and desire" as the Karnataka right-hander hammered 303 not out during the fifth and final Test, becoming only the second Indian after Virender Sehwag to register a three figure score in a Test innings.
Also Read:Nair's triple ton, Jadeja's 7-wicket haul help India beat England in fifth Test
The former captain also hailed Lokesh Rahul, Jayant Yadav and Hardik Pandya who have all been mentored by him as part of India A squad.
"Karun Nair had a fantastic Test match and is an incredible scorer. To score your first hundred and also go on to score a triple hundred speaks volumes for his ability and his hunger and desire. I am really happy for him and happy for Indian cricket to see boys coming through. He can go and build on from here," Dravid told bcci.tv on Saturday night.
"He has the ability and has got talent along with guys like KL Rahul, Jayant Yadav and Hardik Pandya, who got an opportunity in the ODIs. It is unfortunate that he got injured. It is nice to see the boys coming from the India A setup."
He also praised Test captain Virat Kohli and chief coach Anil Kumble for creating an environment where youngsters are feeling comfortable and delivering results straightway.
"It is also a tribute to the environment being created in the national team that they are feeling comfortable and performing straightway. Credit must be given to Virat (Kohli) and Anil (Kumble) for the kind of setup they have. We are seeing the benefits and some very good results, so it is nice to be a part of the process in some ways," he pointed out.
He also felt that in the last few years a strong bench strength has been created but they need to further work on it to ensure that Indin cricket's future remains in safe hands.
"I think Indian cricket is pretty lucky at the moment. We are seeing a lot of talent, not just in the main team and but also in the boys coming through. There is a lot of talent in the India A team and also the U-19 team. Indian cricket is in a pretty good space," he said.
"We need to keep developing and growing. We need to work on some of the gains that we had over the last few years and develop strong squads and strong bench squads."
Dravid's U-19 team on Friday clinched the Youth Asia Cup. The 43-year-old felt that this win give a lot of confident to the raw youngsters. India defeated Sri Lanka by 34 runs in the final held in Colombo to clinch the U-19 trophy.
"It was a really good and a valuable tournament. A lot of young boys in the team were playing with the white kookaburra ball for the first time. Being pushed and challenged in the final was really good," he said.
"From the team's perspective, it was obviously nice to win as it does a lot for the confidence of the players. More importantly, there is a lot that we have learnt from this tournament about the players and about the team as well. It has been a valuable experience."