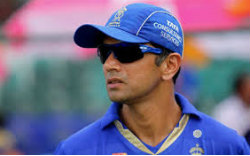 New Delhi: After announcing Anil Kumble's appointed as head coach of India, BCCI President Anurag Thakur has revealed that Rahul Dravid was the original choice. Speaking to NDTV, the 41-year-old admitted that he had talked to Dravid regarding the role.
However, the batting icon felt that he could not cope with the continuous travel citing family commitments. Thakur stated, "I requested Rahul Dravid to coach the Indian Team. He didn't say no, but said that he will work for the junior team."
Lauding Dravid's decision, Thakur added, "That is the good thing about Dravid. He didn't go for the senior team post, big money and all. He wanted to work for the junior cricketers and not the senior team."
A few months ago, Rahul himself deliberated on the possibility and said, "I can only do short-term assignments, I can't stay away from home for long periods of time, short assignments suit me better."
He was also not part of the Cricket Advisory Committee which featured his erstwhile team members Sourav Ganguly, Sachin Tendulkar and VVS Laxman. Following an extensive scrutinizing process by the panel, Dravid's state mate and fellow Indian skipper Kumble got the nod.
Dravid coached the U-19 Indian side to the finals of the junior World Cup earlier this year. He was also involved with Delhi Daredevils in the 2016 IPL as Team Mentor. Interestingly, Kumble had stepped down a similar role with Mumbai Indians prior to the tournament.
Backing Anil's immense experience and sharp intellect at the press conference, Thakur affirmed, "It's about who is the best for Indian cricket. India deserves the best, and I think we have it in Kumble."